With the early signing period now open, the Georgia Bulldogs have added another name to their sparkling women's class of 2014.
Joining Courtney Weaver and Meaghan Raab in signing their letters this week was Anna McKenzie from Tuscaloosa, Alabama: a previously unknown addition to this class.
Weaver's best stroke is a butterflier, with bests of 53.2/1:57.2 in the 100 and 200 yard races. She's also a fairly versatile swimmer (55.8 backstroker, 1:05.9 breaststroker, 51.1 freestyler) who could turn into a fantastic IM'er at Georgia as well. Read more about her commitment here. Weaver's picture is above.
Raab is a top-10 recruit who is a perfect-fit Georgia freestyler, with yards bests of 23.15, 49.01, and 1:45.10 in the 50, 100, and 200 yard freestyles. Read more about her commitment here. Raab's picture is below.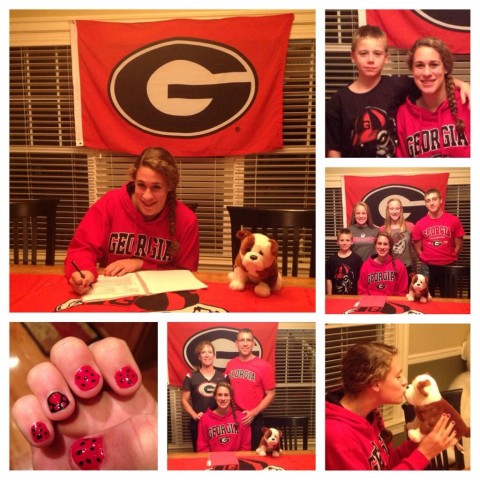 And now the new addition to one of the three best classes in the country: Anna McKenzie.
McKenzie attends Tuscaloosa Academy, which is in the Alabama Independent School Association that doesn't offer swimming. So, she trains under John Boxmeyer for Crimson Tide Aquatics in the pool.
An indication of her pure athleticism, though, lies in her participation on TA's cross country team. She's a 6-time AISA State Champion in the 5k and holds the State Record of 18:26. That's holding right around 6-minute miles.
Her best times are 23.3/50.4/1:49.6 in the 50/100/200 yard freestyles, and she's also been a 1:03.98 in the 100 yard breaststroke.
The pictures below are from McKenzie's official signing.