Press Release courtesy of Reno Aquatics Club.
Melanie Klaren, a former All-American and 2x Captain for the Cal Golden Bears, will be joining the Reno Aquatic Club as a coach this fall. Klaren, a backstroke and freestyle specialist from Laguna Niguel, California, comes to Reno from a year with Duke University as a Volunteer Assistant Coach for the 2016-17 season. The year saw both the Duke men's and women's programs score at the NCAA Championships.The regular season saw the Duke program make history as both squads defeated North Carolina in dual meet action. The men topped the Tar Heels for the first time since 1939 and the women for the first time in program history.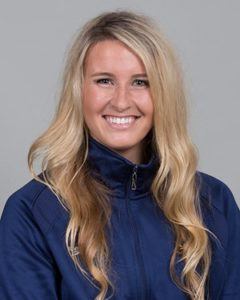 Prior to her retirement at the 2016 U.S. Olympic Trials, Klaren represented the United States at the 2015 World University Games in Gwangju, South Korea and scored at all four NCAA Championship meets. As a senior, she took third in the 100-yard backstroke and sixth in the 200-yard backstroke and captained the squad to the 2015 NCAA Team title. She was also a scorer in both backstrokes when the Golden Bears won the 2012 Team title. Klaren graduated in 2015 with a degree in history.
"I am extremely excited for this new opportunity and to be closer to my family, who has since moved to Reno, Nevada. My age group swimming years under the Mission Viejo Nadadores and Irvine Aquazots were crucial to my future successes in college, and I am thrilled for the opportunity to learn under Ryan Mallam and to help promote this sport in such an exciting and up-and-coming area for swimming," Klaren says.