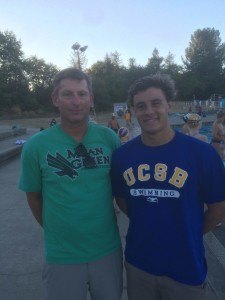 Jake Rollo with Walnut Creak Aquabear Head Coach Mike Heaney
Photo Credit:  Todd Krohn
This week Jake Rollo of the Walnut Creek Aquabears in Northern California verbally committed to join the UCSB Gauchos starting in the 2016/17 season.
Rollo will be following what is now becoming a well worn path between his club team, the Aquabears and UCSB, where he will be joining three of his former teammates swimming there as freshman this year.
________________________________________________________________________
"I am truly honored to be selected by Coach Gregg Wilson in his final recruiting class.  The chance to be reunited with my club team members with whom we have had so much success is an opportunity I couldn't pass up.  I can't wait to contribute to this great program and university- Go Gauchos!"
________________________________________________________________________
Rollo is a Scholastic All-American , two time swimming All-American,  Junior National qualifier, and two time individual finalist in the inaugural California High School State Swimming Championships where he finished 3rd in the 500 Free, and 6th in the 200 IM.  With the addition of Rollo, in 2016 UCSB will feature the top 3 500 freestylers from that first California high school state championship.
Some of his top short course times include:
200 IM – 1:50.58
400 IM – 3:59.77
500 Free – 4:29.04
1000 Free — 9:18.36
200 Breast — 2:06.17
50y Back – 23.26
Rollo will make an immediate impact for the Gauchos under the tutelage of legendary Head Coach Greg Wilson – Who at the end of the 2016 – 17 season will be stepping down.  Rollo's 200 IM would have been good enough to make the A-Final at last year's MPSF Conference Championships, and his 500 Free and 400 IM times were fast enough to qualify for the B-Finals – Although one gets the sense that Rollo has a lot of room to drop in the 400 IM as he last swam it a year ago.
The Gauchos will be losing some talented seniors to graduation, so Rollo should be competing for some B-Relay spots right away.  A versatile focused competitor, , Rollo is a great recruit for Coach Wilson in his farewell season.