By Anita Nall Richesson, Olympian & Nutritionist
What's a wellness junkie like myself to do around this time of the year when the sugar and cheer is about to flow with no end in site until after January 1st?  The holidays can pose a challenge to even the best of us who are committed to optimal nutrition. So, I've created some fun family traditions in our home that maintain our focus on wellness while still enjoying the holiday fun.  Because, after all, gaining 10 lbs. and watching my kids get hyped up on sugar isn't really that fun anyway, is it?
Don't forget that colds and flues thrive at this time of year and can take you out of your training regimen while setting you back in your performance goals.  Since we know sugar drastically reduces bodily defenses against harmful bugs, being aware of your sugar intake is the ONE thing I'd suggest you focus on for a healthier holiday season.
Here are some useful suggestions to keeping your holidays as healthy as possible while still enjoying time with your family, friends and great food.
Thanksgiving & Christmas
If you are hosting the party, talk about the holiday menu with your family.  Plan out a healthier menu that everyone feels good about.  Remember, you aren't the only ones looking for health and wellbeing, a healthier menu benefits everyone.
Take a family walk around the neighborhood or go outside and throw the football around after large meals.
Plan a family hike around holiday time.
Put the food away after everyone has had their first fill (don't let it lay around for picking)
Investigate low sugar (non chemically sweetened desserts).  For example, dates and coconut sugar are great sweetening alternatives for this time of the year.  Dark chocolate covered nuts and raisins are simple and taste great.
Set a limit for yourselves before going into a holiday party.  In other words, before entering, talk about how many Celebration Foods* would be a healthy choice to have at the party.
Play board games after a big dinner to get your minds off food for a little.
Don't go to the party starving, you'll eat more than you normally would.  Eat slowly and enjoy the company before you overeat and feel sick!
Take a healthy dish with you to a party so that you know you have one good option to eat.
Don't fill up on bread before the full meal even begins.
Don't get your sugar fill from highly sugared drinks; wait instead, for a small sampling of desserts.  Doing both will put your sugar intake over the edge!
Remember, taking care of your body is a lifelong commitment; take care of your body and it will take care of you.   Healthier traditions or not, we always enjoy what the holidays are really about: Family, love & great food while maintaining health and staying on track with our performance goals!
*Celebration foods in my program are party foods that I suggest only be eaten on occasion
(pies, pastries, cakes, candy, etc.)
Here are a few healthier, lower sugar dessert recipes you can try this year:
Cookie Dough Bites
Strawberry Mousse
Ingredients:

3 tablespoons coconut oil, melted
1½ tablespoons coconut milk, full fat
¾ teaspoon vanilla extract
2 teaspoon raw honey
¾ cup blanched almond flour
3 tablespoons chocolate chips, plus more for drizzling

Instructions:

Whisk together the coconut oil, coconut milk, vanilla and honey
Using a rubber spatula, gently mix in the almond flour until ingredients are combined. Be careful not to over mix or the batter will become oily.
Fold in the chocolate chips and refrigerate the dough for about 30 minutes
Roll chilled dough into balls and place on a cookie sheet lined with parchment paper
Melt chocolate chips in a double boiler over simmering water
Drizzle chocolate over each cookie dough bite

Recipe makes 10 cookie dough bites. Store in the refrigerator.

Ingredients:

Add to a blender or food processor

3/4 cup full fat coconut milk (I use canned)

1/4 cup honey or agave

1 tsp vanilla

1 heaping cup frozen strawberries (Do not defrost the strawberries. The combination of the cold strawberries and the gelatin creates a whipped-like texture.)

2 tsp lemon juice

1 tbsp + 1 tsp Gelatin, dissolved into 1/4 cup boiling water (add this last, right before blending)

Puree.

Instructions:

Pour into cooled crust to about half full.

Refrigerate about 30 minutes or until it's set.
About Me:
Although my list of athletic accomplishments are many, my greatest achievement to this day is the vibrant health I now experience.  Life as I knew it came to a screeching halt during a decade of 'mystery illnesses' following the 1992 Olympic Games.  There were days I'd sleep for 13 hours and wake up exhausted and days I couldn't recognize the once elite body I was living with.
Through unrelenting determination (the same way I pursued swimming), I rediscovered health.  My profound experiences with illness, healing and professional athletics have given me a unique perspective to share with clients.  My passionate understanding of the healing power of food and wellness motivates people striving to feel and perform their best.  My work with various elite professional athletes including UFC fighters, the Jacksonville Jaguars, world-class swimmers & boxers around the country invigorates me.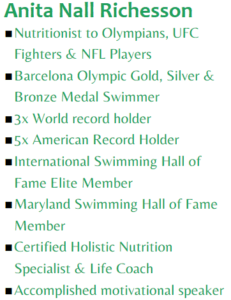 After completing my undergraduate degree in Communications and Spanish from Arizona State University I pursued holistic nutrition education at Southwest Institute of Healing Arts in Tempe, Arizona.
I write nutrition & wellness articles for various groups and recently began an empowerment program for teenage female athletes that centers around motivation, nutrition & increased self-esteem.
I consider myself a lifelong seeker and my journey to be a champion perseveres long after sport.
AB