This edition of the Hardcore Swim of the Week encompasses the 7 days up until the start of the European Junior Championships and World University Games. Next week, we'll give a Hardcore award for each of those two events, once we've had time to evaluate who the best of the full meets were.
The HardCore Swim of the week this week goes to Australian James Magnussen for his swim in the men's 100 freestyle at the French Open in Vichy last weekend.
While we're sure distance fans are rolling your eyes (yes, another sprinter), the number put up by Magnussen at the French Open is hard to ignore. Three weeks out of the World Championships, Magnussen went a 47.67 in the 100 free.
Only a handful of guys have gone fastest in history at non-year-end-taper meets (aka, meets not the Olympics, World Championships, or Continental Championship in off-years). Among those who have, they all still came at National Championship meets, and in polyurethane suits to boot.
Suffice-to-say, we can safely declare Magnussen's swim the most impressive in-season long course men's 100 freestyle we've ever seen.
Pile on top of that an under-the-radar 46.40 in short course meters done at the end of June (a bit slower than the 45.65 with which Vlad Morozov won the Short Course World Championship in December, but still impressive unshaven), and it's clear that Magnussen is the favorite in Barcelona. With all due respect to the defending Olympic Champion Nathan Adrian, and his fans, this is why Magnussen is the favorite going into the World Championships, despite losing to Adrian by .01 seconds in London. In sprint freestyles, an unpredictable outcome is predictable, but Magnussen is the favorite.
After the chaos that was the 2012 Olympic season, Magnussen is focused. At this point, he has to have too many people around him keeping him focused to be anything but, and he will be on his best in Barca.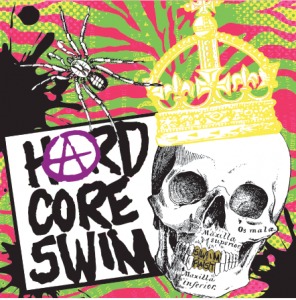 Founded on the pool decks of Southern California, HARDCORESWIM examines and explores the ethos of the hardcore swimmer. HARDCORESWIM is an authentic and innovative designer, marketer and manufacturer of premium quality men's and women's swimsuits, Custom Team Swim Suits, training gear, clothing, accessories and related products. Our true, authentic, innovative, iconoclastic, and creative style differentiates us from the bland competitive swim industry and gives us reason to be. All made in the USA. Check us out atwww.hardcoreswim.com or find us at www.facebook.com/hardcoreswim .
Follow HardCoreSwim on Twitter here.