Via SwimSwam contributor Chris O'Linger, an assistant coach at the University of the Incarnate Word.
The Gulf Coast Swim Team in Fort Myers, Florida has produced several competent distance swimmers, and still holds a reputation for doing so currently.
Swimming Coach Don Henshaw likes to emphasize a smooth and efficient stroke with a powerful "palm-down" underwater catch. He has found much success in age group distance swimmers who display a quick stroke tempo and a purposeful 2-beat kick, although recently, he has fostered several swimmers who successfully implement a consistent 4 or 6-beat kick. He now preaches that each individual athlete experiment with various techniques early on in their careers, so that they can utilize the most promising method for optimal training and performance.
Don Henshaw conducts a top-notch–encouraging yet humbling–distance program, helping his athletes gain awareness of semantic points, including consistent pace work, tempo, and stroke count. Pace work is done with swimmers who compete in distances ranging from the 200 up to the 1650, and the sets are done constantly. Don finds it important for the athletes to be able to recognize and perform at pace on a daily basis.
Concerning the distance team, Henshaw has found that a wide variety of training keeps the athletes motivated and well-rounded. Butterfly and IM training is thrown in on a regular basis, and the freestyle sets are evenly split between long repeats (200-1000's) and shorter durational distances (50, 75, and 100's). There is very little emphasis on recovery in Henshaw's program. The underlying motive is that pushing the athletes past their point of comfortability daily, along with the incorporation of butterfly and IM training, will create tougher athletes at the end. In summation, the progressive and integrated program being run in Fort Myers has produced, and will continue to produce, several elite distance competitors. The success has been correlated with perfection of the basics.
Don Henshaw shares a main set on a Wednesday afternoon in Fort Myers:
1 x 1000 w/ paddles @ 12:00
12 x 100 swim @ 1:10
1 x 500 w/ paddles @ 6:30
10 x 100 swim @ 1:05
1 x 300 w/ paddles @ 4:30
8 x 100 swim @ 1:03
(4800 yards/~1 hour)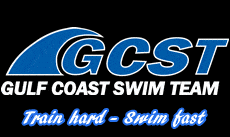 Follow Gulf Coast Swim Team on Twitter here. 
Like Gulf Coast Swim Team on Facebook here. 
See Gulf Coast Swim Team's HQ here.
O'Linger is an assistant coach for the Incarnate Word swimming and diving program.  He swam collegiately at both the University of Florida and University of Tampa.  He earned a degree in social psychology from Tampa.  He is studying kinesiology.