Swimming News courtesy of Swim Barbados

What's up for grabs November 2nd at the Barbados Open Water Festival's "Swim the Bay" event in the magnificent Carlisle Bay? Well, several airline tickets for starters, generously donated by Virgin Atlantic and Jetblue. Then there are tablets, stays at luxury oceanfront hotels, dining vouchers, day cruises to swim with turtles, tickets to dinner shows and island attractions, island tours, spa treatments, golf rounds, swim magazine subscriptions, health products, local rum and beer, souvenirs and more.
Why would you want to visit Barbados? Fantastic scenery, friendly people, lots of tours & attractions, quiet beaches and lively beaches, an island vibe but with modern comforts. An all-round great holiday destination.
This is all great news but what is it that is special about swimming in Barbados? What does Barbados have that open water swimmers crave? Absolutely fantastic crystal clear water! Unbelievable swimming conditions! Couple this with a professionally organized event with all the safety measures intact, wonderful prizes and an all day beach party after the swim …. and the result: an unforgettable experience!
The "Barbados Open Water Festival" schedule Sunday November 2nd, 2014:
8.15 am Briefing meeting and roll call for all swimmers in the 1.5km & 5km races
9am Both Races & Just for fun swim start , prize giving immediately following races.
10am Bar open, food serving, music playing.
11am SUP Relay in the Bay: A fast paced relay as several teams battle it out.
1pm Kayak Relay in the Bay. Exciting relay races with several teams.
2pm Prize presentation for the SUP relay and the Kayak relay.
3:30 pm Water Polo action
ALL DAY: Enjoy the party atmosphere on the beach. MC. Fully stocked bars, Beach Barbeque, Music, Shade. The Barbados Sea Turtle Project will be there. There is great snorkelling at a wreck 150 m off the beach. Paddleboards/watersports rentals available.
Int'l Masters Pool Meet October 29-31 & Barbados Open Water Festival Nov 2 2014. Enter now. www.swimbarbadosvacations.com.
Mission: To promote swimming in Barbados and to share our venues with pool & open water swimmers from around the globe!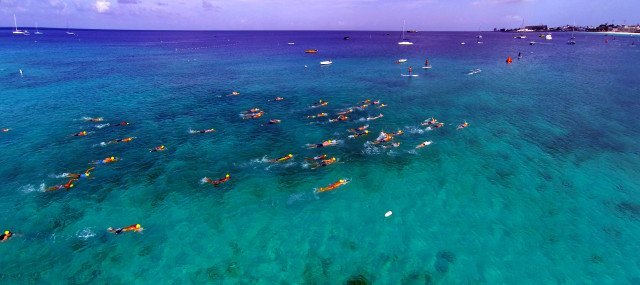 SwimBarbadosVacations has been formed to host International swimming events in Barbados. In 2013 two Open Water Festivals were held (July & October) and they were well subscribed by swimmers from all across the globe. Conditions for open water swimming in Barbados are excellent. Additionally, there is a very active group of Masters Swimmers on the island and in 2014 a Masters Pool Meet (Oct 29-31) will be hosted in conjunction with Flying Fish Masters and the Barbados Amateur Swimming Association. The organizers are veterans of the local swim/water polo/triathlon fraternity. They have a passion for swimming and for growing the sport in Barbados.
There were two open water swim events hosted in 2013, the first took place on July 6th and the second on October 27, 2013. Two swims, a 1.5km swim and a 5 km swim plus SUP relay races, kayak races and water polo. The 2014 event will be hosted on November 2nd. Swimmers & triathletes of all skill levels, from recreational to elite are welcome! Swim at your own pace. The races are broken down into age categories for men and women, see web site for details on this, 2013 prizes and more. (http://www.swimbarbadosvacations.com/).
Follow Swim Barbados Vacations on Twitter here.
Like Swim Barbados Vacations on Facebook here.