Courtesy: Champions Mojo, a SwimSwam partner. 
You'll find inspiration and motivation in the Champion's Mojo Podcast, a weekly podcast for the swimming community, offering in-depth interviews with the most elite Swimmers and Coaches in the sport and interviews with other experts and Champion's to help you reach peak performances in sports and life.
Here are three interviews you're sure to love! These shows were recorded before the pandemic shut down, but their content is evergreen! Click links to listen.
1. Andrew Seliskar, Passion to Race #58  One of the most versatile swimmers on Team USA and the 2019 NCAA Male Swimmer of the year from Cal Berkeley's title winning year.
What you'll hear: Andrew talks about how he turned things around from his Junior year to his senior year at Cal and how his dream season unfolded.
Why it matters: You can use some of Andrew's experiences and wisdom to drive your own success.
2. Gary Taylor, Stepping Up for Auburn  #56  Auburn University's Head men's and women's swimming Coach just finished his second year and is looking to return this program to the top of the NCAA.
What you'll hear: Gary could have had his pick of head coaching jobs but he was inspired to step up to lead Auburn and take on the pressure that comes with that.
Why it matters: Learn about championship character and how it leads to success.
3. Fares Ksebati, Start-up Genius at MySwimPro, #54  Swimmer, coach, business startup genius — as the co-founder of the app MySwimPro, Fares Ksebati shows how grit and determination, even with limited resources, can produce success. Ksebati was recently selected by Forbes Magazine in the prestigious "30 under 30" for entrepreneurs to watch in 2020.
What you'll hear: Savvy advice from one of today's young leaders on how to be successful in almost anything.
Why it matters: You'll love this concise and valuable advice on starting up almost anything from a new business to a swim program.
Subscribe to the Champions' Mojo Podcast today and don't miss an episode. Hosted by Kelly Palace and Maria Parker, you can learn more about the Hosts here.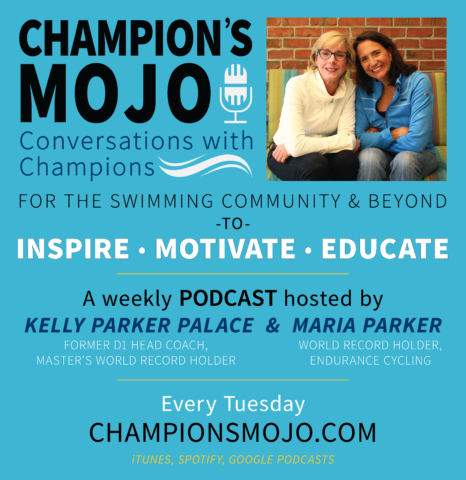 Swimming podcast feature is courtesy of Champion's Mojo, a SwimSwam partner.