ONE – SO MANY MAGAZINES
If you subscribe to SwimSwam Magazine, you can immediately view the 2016 Olympic Preview as a digital issue as well as all back issues!
You will get:
the 2016 Olympic Preview issue as a digital magazine
the 2015 Year in Review (with the Michael Phelps cover) as a digital magazine
the 2016 Swimsuit Issue as a digital magazine
the 2016 College Preview / Fall Preview Issue (Katie Ledecky cover) as a print magazine

the 2016 Olympic Year in Review as a print magazine (a very big issue)

the 2017 Swimsuit Issue as a print magazine
the 2017 Summer Preview (aka World Championship Preview) as a print magazine
***We upload the College Preview as a digital magazine (for subscribers only) September 15th, 2016.  If you are already a subscriber, go to swimswam.com/magazine/digital-access, type in your email/password and view the digital magazines.
The 2016-2017 College Preview issue ships August 22nd, and it has everything you need to know to feed the college swimming fire and get ready for a great season!  We have data-rich reports, features on the biggest names in college swimming, and all of the college recruiting tips you'll ever need from coaches across all divisions. Plus, we honor Katie Ledecky as she enters the college ranks!

 Michael Phelps in nothing but gold and Phelps in stunning black and white!
How do you like that gold leaf and the camera angle of Michael Phelps' world-famous pre-start arm-flap?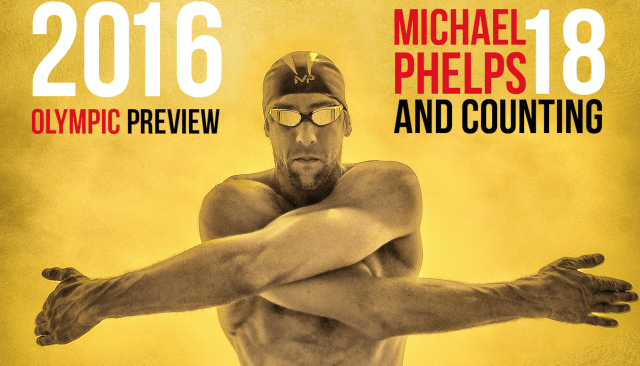 And there's Phelps in black and while on the 2015 Year in Review.  These are must-have digital issues, and you get them as soon as you subscribe.

I own the 1972 Life Magazine cover of Mark Spitz.  That issue was their preview for the 1972 Olympic Games in Munich where Spitz went on to win seven gold medals. The magazine cover is iconic. That's what we're going for with the Olympic Preview, College Preview and the 2016 Olympic Year in Review.  These are issues you will want to keep forever.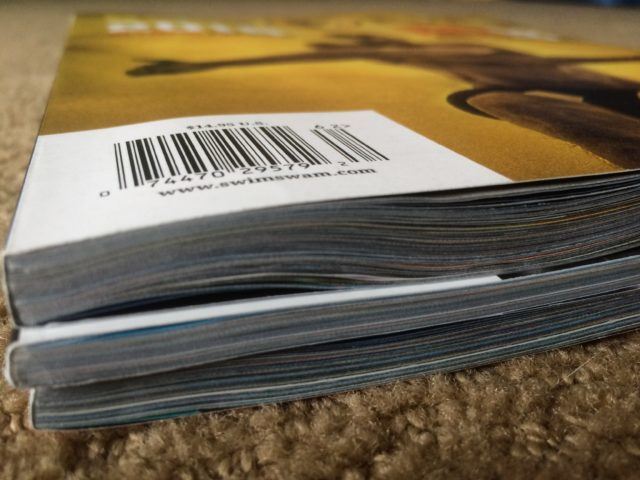 Pictured above, see our first three issues.  The premiere issue was 132 pages.  The 2016 Swimsuit Issue is 172 pages, and The Olympic Preview is 196 pages!  That's 500 pages of swimming info, features and entertainment over our first three issues.  With your subscription, you will receive big, thick magazines. They are not only thicker than what you're used to, they're larger than traditional magazines. They are 9×10.875. 
SwimSwam Magazine, each of the issues, are nearly a pound. That's heavy, the type of magazines  you will want on your coffee table.
If you haven't subscribed, you simply don't know. SwimSwam Magazine is not only higher quality, you feel it the instant you touch the magazine. The texture is amazing, and you'll love how heavy it feels in your hand.
6 – So Many Profiles
Profiles on Olympians and College swimmers are insightful.  We reach back and look forward with a keen eye to enhance the drama which makes our sport so great. Katie Ledecky, Nathan Adrian, Ryan Lochte, Caeleb Dressel, Ryan Murphy and many, many more are covered.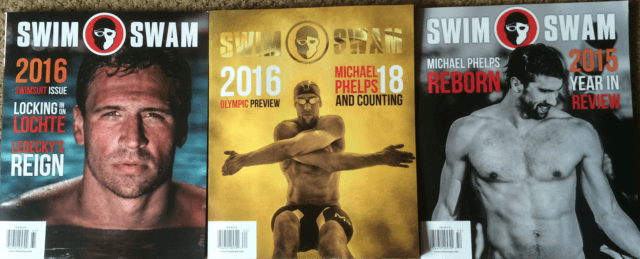 To knock you over with each issue, producing a must-have magazine that feels like a collector's item.
To produce unique features never before seen in swimming media.
To present swimming like it should be, the greatest sport on earth.
At SwimSwam, we love the sport, and we love changing the paradigm of how it's presented. For far too long swimming magazines have been the same, and it our goal to deliver something spectacular, a magazine you will be excited about getting every single time a new issue is released.