Technique Day Camp is a stroke intensive camp, we will focus on enhancing your swimmer's technique. Our objective is for every swimmer to leave with a faster more efficient stroke, while at the same time enhancing their love for the sport of swimming. Swimmers will learn the latest technique trends for each of the four competitive strokes, as well as starts & turns. One stroke will be highlighted each day with an emphasis on efficiency & mechanics. Training will occur in each session, with swimmers receiving individual attention & feedback. Campers will receive daily instruction on injury prevention, dry-land training, and NUTRITION FOR COMPETITIVE SWIMMING. When they return to their home club or team they will be able to train & compete at a higher level.
Technique Day Camps
Ages: 7 – 18, Boys & Girls
Drop Off: 8:30am – 9:00am
Pick Up: 3:30pm – 4:00pm
Location: Roger Williams University
Cost By Feb. 1st: $325 |  Includes Lunch & T-Shirt
Cost After Feb. 1st: $350  |  Includes Lunch & T-Shirt
June 26th – 29th
REGISTER
July 17th – 20th
REGISTER
What's Included

Individual Attention & Feedback
Video Analysis of Strokes
Advanced Technique Refinement
Rhode Island's most Experienced Staff
FREE Camp T-Shirt
Meals
Lunch included in the price in Roger Williams Nationally ranked dining hall.
What to Bring
Suits
Goggles
Towels
Snacks and drinks-for breaks in between sessions.
Packed Lunch
Water bottle
Sneakers
Plenty of comfortable shorts, socks, and t-shirts
Fins (optional)
If you have them, please bring.
Snorkel (optional)
If you have one, please bring.

Rules and Regulations
Prior to arrival via email, each swimmer will be provided with the camp rules. While the aim of the camp is to accommodate swimmers with an enjoyable and worthwhile experience, we reserve the right to send home any swimmer who does not conduct himself/herself in a favorable manner.
Enrollment
Swimmers MUST be able to complete 4 lengths of the pool in Freestyle & Backstroke and MUST have at least 1 year of competitive swimming experience.
Refund Policy
There is a $100 non-refundable cancellation policy for all campers.
Contact
Matt Emmert, Camp Director | 401-580-7313 (Cell) | [email protected]
The only swimming recruiting camp in the NorthEast! This is your opportunity to get a feel for what is takes to be an NCAA Collegiate swimmer. All training sessions & staff are real collegiate coaches, who will break up the training sessions in the same manner they would their own program. Divison I, II, & III coaches will be in attendance, so it's also an opportunity to show your potential to be an impact swimmer on their program.
Campers will have the opportunity to stay in the waterfront dorms of Roger Williams University, as well as eat in the nationally ranked dining hall. Space is limited to only 32 campers, in order to provide the most competitive & real collegiate training experience. It is suggested that swimmers should have at least the minimum of a New England Silvers Championship Time Standard to be able to adequately handle the workload of the camp, but it is not required.
College recruiting discussion lead by collegiate coaches on the first night, open to parents, as well as swimmers.
June 16th – 18th
Grades: 9th – 12th, Boys & Girls
Check-In: 2:00pm – 3:00pm, Day 1
Check-Out: 12:00pm, Day 3
Overnight Camp Cost: $470
Price Increases on Feb. 1st to $495
REGISTER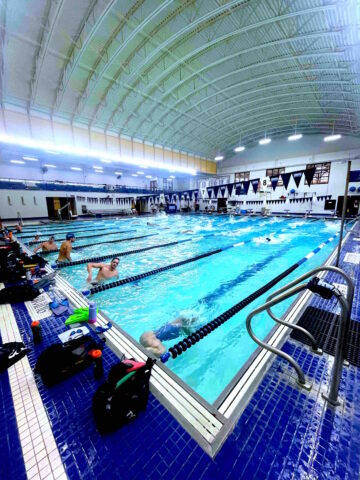 Location
Roger Williams University, 1 Old Ferry Road, Bristol, RI 02809
College Coaches Attending Camp
Suggested Time Standards
New England Silvers Championship Time Standard
Friday
2:00pm – 3:00pm
 Check-In
3:30pm – 5:30pm
 Training Session #1
5:30pm – 6:30pm
 Dinner
6:45pm – 7:30pm
 TALK
8:00pm – 9:00pm
 Turf Olympics
9:45pm
 Lights Out
Sunday
7:30am
 Breakfast
8:00am – 9:00am
 Warm-Up
9:00am – 11:00am
 Mini-Meet
11:30am
 Check-Out
Saturday
7:30am – 9:00am
 Training Session #2
9:00am – 9:30am
 Breakfast
10:30am – 12:00pm
 Training Session #3
12:00pm
 Lunch
12:30pm – 2:00pm
 Freetime
2:30pm – 3:30pm
 Dryland
3:30pm – 5:30pm
 Training Session #4
5:30pm – 6:00pm
 YOGA
6:00pm
 Dinner
6:45pm
 Talk
8:00pm
 Dodgeball Tourney
Showcase Camp Schedule
Friday June 17
Saturday June 18
Sunday June 19
2:30 PM
Check In
6:30am
Wake-UP
7:30am
Wake-up
3:00pm
Training Session #1
7:00am
Training Session #3
8:00am
Breakfast
5:00pm
Dinner
8:30am
Breakfast
9:00am
Training Session #6
6:30 PM
Training Session #2
9:30 AM
Admissons Process – RWU Director of Admissions
11:30am
Check Out
8:30pm
"Our Recruiting Experience" – Counselors
10:45 AM
Training Session #4
8:45 PM
Down Time in Dorms
12:00 PM
Lunch
9:30pm
Lights Out
1:00pm
Freetime
3:00pm
Training Session #5
5:00pm
Dinner
6:30pm
YOGA
8:30pm
Down Time in Dorms
9:30pm
Lights Out
Contact
Matt Emmert, Camp Director | 401-580-7313 (Cell) | [email protected]
Coaching Staff

Matt Emmert has served as Head Coach of the Men's and Women's Swimming & Diving programs since 2012, and during his tenure, he has continued to guide the Hawks to new heights under his tutelage. Since his arrival, Emmert and his staff have coached (9x)NEISDA Championship Teams & have been honored as (7x) NEISDA Coaching Staff of the year.   Coach Emmert has coached: (170) NEISDA champions, (58) ECAC qualifiers, (7) NCAA Provisional Qualifiers & (2) NCAA All-American Honorable mentions in his time at RWU.
In addition to his time at RWU, Coach Emmert resides in Portsmouth, RI with his wife, (2) girls Brynn & Lyla, and (2) dogs Boston & Wayne.  He is also the Owner & Director of Kingfish Rhode Island, a local USA swimming club within the state, as well as the KING RI Swim Academy, which serves swimmers of all levels.
Ocean State Swim Camps are a SwimSwam partner.