Training at the USD Swimming & Diving Camp focuses on both physical condition and superior stroke and board technique. Camp includes one hour sessions focusing on swimming & diving specific dry-land, strength training and flexibility exercises. Two daily sessions focus specifically on technique work. Each athlete will also receive video analysis of their strokes and dives while at camp.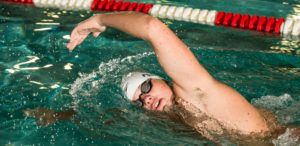 Camp Fees:  (includes 8% sales tax) Fees for the Camp are $450 per session for resident campers. Fees cover facility use, room and board, coaching, supervision and camp t-shirt. Fees for a commuter camper are $350 per session and includes facility use, coaching, supervision and camp t-shirt. Commuter campers would need to be dropped off at the DakotaDome each morning at 8:00 AM and picked up from the Dome at 9:00 PM.
Checking In & Out: Check-in occurs on Sunday at 5:00 PM. All campers will check out on Friday at 11:00 AM Campers will be supervised until they are checked out.
Equipment: Campers should bring all personal swimming gear —suits, goggles, caps, plenty of towels and a combination lock. Training equipment (kick board, fins, etc.) should be left at home. Casual clothes (t-shirts, shorts, etc.) and athletic tennis shoes are required for dry-land exercises. Resident campers also need an alarm clock, bed linens, blanket or sleeping bag, personal toiletries,water bottle, plenty of comfortable shorts, t-shirts,  socks, towels, sturdy athletic shoes and a pillow.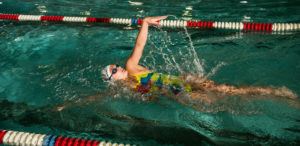 Supervision: Experienced and mature male and female coaches/counselors provide 24-hour supervision for all swimmers. Counselors are members of the USD Swimming & Diving team.
Extracurricular Activities: Planned recreational activities are available Monday-Thursday after the evening stroke session. Activities may include a climbing wall, scavenger hunt, pizza & movie night, tye-dye t-shirt night, ultimate frisbee and other activities.
Coaching Staff
Jason Mahowald
Head Coach
The 2016-17 season will be Jason Mahowald's 12th as the head men's and women's swimming and diving coach at the University of South Dakota. Mahowald began his tenure in 2005-06 when the Coyotes were in Division II and has guided the program through the transition to Division I.
Mahowald began his coaching career by leading the women's swimming and diving team to three-straight top-10 finishes at the NCAA Division II National Championships, including an eighth-place finish in 2005-06, which tied for the programs best result. That same year the women's swimming and diving team was named an Academic All-American team by collegeswimming.com.
During the three-year stretch (2005-08) that Mahowald coached the Coyotes in Division II, he led the men's and women's teams to 29 All-America performances, 24 of which were individual performances.
Steve Mohs
Assistant Coach
Steven Mohs was named associate head coach for the Coyotes in the spring of 2017. Mohs has 15 years of collegiate coaching experience including four years as head coach at Morningside College (2008-12) and four more as head coach at St. Catherine University in St. Paul, Minn., (2012-16).
Mohs has traveled the country to work different swim camps, most notably the Texas Longhorn Swim Camp and the Stanford International Swim Camp where he worked alongside Reese and Meehan, respectively. He has spent this past year as an assistant swim coach for Granite City Aquatics Swim Club in St. Cloud, Minn.
Mohs attended Sauk Rapids-Rice High School near St. Cloud and attended St. Cloud State University where he was a captain on the swim team and earned his bachelor's degree in sports management in 2001. He began his coaching career that fall as a graduate assistant for the swim program at St. Cloud and was later hired as an assistant coach. He worked primarily with distance swimmers and individual medley specialists, and was in charge of the team's off-season conditioning and weight training programs.
Facilities
 
One of the region's most recognizable structures, the DakotaDome serves as the cornerstone of the Coyote Athletic Department. The DakotaDome is a multi-purpose facility that is home to five intercollegiate sports, including football, basketball, volleyball, track and field and swimming and diving.
Originally constructed in 1979, the Dome received a new $13 million steel roof in 2001. Additional upgrades followed including the installation of a customized Daktronics Sports Marketing video board, concourse and concession improvements, women's locker room renovation and press box updates. Work continued in 2007 with the renovation of the sports medicine area, replacement of men's locker room, reconstruction of the equipment room and replacement of the arena floor
Swim Camp news is courtesy of Coyote Swim Camps, a SwimSwam partner.