9-time Olympic medalist and Australian Swim Star Ian Thorpe stops by the @adidas_swim booth at the 2014 European Championships to share his thoughts on watching the races and what swim gear he chooses and why.
Ian Thorpe is one of many on the Adidas Team. Adidas Swim recently launched in the United States market. In addition to Ian Thorpe and Olympic Star Cesar Cielo, they have also partnered with 6-time Olympic medalist Allison Schmitt.
Adidas onsite at the LEN European Championsips
The 32nd LEN European Championships is taking place in Berlin this year, and is 12 days of high-class water sports.
2014 European Championships Open water and Synchronized Swimming kicked-off the event while pool swim and high-dive are happening now. The event attracts athletes from all over the world to compete for the ultimate European title.
Among these athletes is adidas team member Bruno Fratus who is competing in the 50m and 400 Free Relay.
Holding true to adidas claim of being #allin or nothing, the global icon is set to host a free, open-to-the-public, weeklong event called "adidas a-station".  Spokespeople from adidas are describing the event to be "a hip, unique branding experience they are inviting all athletes to attend."
What can participants expect — meet and greet opportunities with world-class swimmers, coaches, and industry tastemakers, contests and product giveaways, and social media hubs. The main attraction, a free 3D body-scan that will on-the-spot determine the most compatible suit for each person's body… game-changing information!
To register for the 3D body-scan, visit bit.ly/eatsleepswimrepeat 
As if that's not cool enough, every person that registers for the on-site body scan will receive a brand new, adizero competition suit for FREE!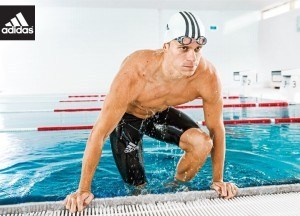 For over 80 years, the adidas® brand has been an influential part of the world of sports, on every level. We are excited to say that adidas® has officially entered the competitive swim world in the United States.
adidas® is designing, creating and manufacturing swim products for all types of competitors, new to veteran. We are dedicated to offer the best-of-the-best products; from compression materials, to flattering back options that allow excellent range of motion, to innovative prints with long lasting chlorine resistant fabrics. We're committed to provide the top-of-the-line products you expect from adidas.
To see the most innovative swim-line yet, please visit www.adidasswim.com.
Stay in the know about product launches, athlete endorsements, contests, and more by following us on Facebook at www.facebook.com/officialadidasswim.