Written and courtesy of Katie Lafferty
Dear Coaches,
I want to take some time to just say thank you. I know you guys don't hear it nearly enough, but we appreciate everything you do. You spend an incredible amount of time each week doing things behind the scenes that people don't recognize (creating workouts, making line-ups, etc). You spend hours on recruiting and planning our travel meets. You spend numerous hours each week in meetings, with staff and swimmers, trying to fight for what is best for the team.
Thank you for being there for me when it didn't seem like anyone else was. You know more about me than you would like to, but because of that we have created a dynamic that works for us and has led us to be successful, in and out of the pool. You have spent so many hours talking with me and trying to help me, without these conversations, I don't know if I would still be swimming.
Thank you for believing in me when I didn't even believe in myself. I don't know many people who would believe that a sprinter could go out and win a conference title in the 500 free, but you did. You believed in me from the beginning, even when I would come to you with an enormous amout doubt about my abilities. You reassured me, everyday, that achieving my goals was possible with hard work and determination.
Thank you for going through my journey with me. From me laying on the pool deck after a race because I was in so much pain because of a tumor to me winning my first high school sectional title. Thank you for being just a phone call away when I got the news that I needed surgery and I would be out of the pool for an unknown amount of time. Thank you for responding to all of my ridiculous texts during chemotherapy when I was bored beyond belief.
Thank you for not giving up on me. Having someone join your team fresh out of chemotherapy was probably not something that you ever imagined having to deal with. Thank you for taking me as I was and for working with me to get me back to where I needed to be. Thank you for giving me a chance to swim and compete even after I spent all summer in a doctor's office.
Thank you for letting me walk up to you crying, more often than either of us would like to admit. Even if there were no words spoken on my end, knowing you there was all I needed.
Lastly, thank you for putting up with me and sharing your love of the sport with me. Because of you guys I strive to be a better person and swimmer. I would not have dreams of being a swim coach without all of the fantastic coaches I have been surrounded with.
There isn't enough time in the day to thank you guys nearly enough. You have changed my life for the better and because of that I stri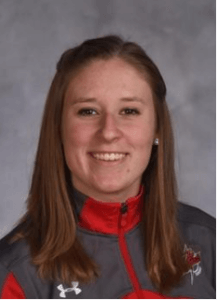 ve to be a better person and swimmer, each and every day.
I am a collegiate swimmer, swimming for Saint Francis University (PA). I am a first semester senior studying business management and business marketing with a minor in social work. I am a three-time school record holder for the Red Flash and a NEC conference champion.