Courtesy: Alexander Gilchrist
For many club, high school, and college swimmers, the steady and consistent routine of training day in and day out can provide a much needed sense of structure. The beauty about the sport of swimming is that there is no true offseason. Once high school or college season ends, club training continues for the USA swimming summer season.
However, it is crucial to be cognizant of why you continue to train in what most other sports would consider "offseason". The routine of training and school creates a comfort zone for some, because you never tend ask "what next?". You typically have a sense of what is to come. After the big meet, you go back to train for the next one in the coming months. After school ends, you train for an end of summer meet and to stay sharp for the next college or high school season.
But be careful to not fall into a routine just for the sake of it. You must always remember why you are training week after week like you do, and why you are in the position you are in. Training without a clear sense of purpose is ineffective and will not produce the same results as training that has a swimmer engaged and pursuant to an ultimate goal. And more importantly, it can make swimmers miserable and asking themselves why they are still swimming.
Sometimes competitive swimmers continue to go to practice and meets because it has become a habit after many years of it being the thing that much of their life is centered around. Often times we can forget what we are chasing, and why we put such strains on ourselves mentally and physically on a regular basis. When this happens, practice becomes a burden and a chore, and we can question why we are still doing it.
This rut can be easy to fall into amidst long training cycles where there seems to be no end in sight. Likewise, they can also be easy to avoid and escape. Whenever you begin to doubt your purpose in the sport, ask yourself what you still wish you could do in swimming. Is it a specific time? Is it swimming at a specific meet? Is it traveling with and supporting your teammates? Whatever your answers may be, write them down and keep them as a motivator to reminder of why you train. Tools like this may seem too simple to be effective, but they are in fact some of the most powerful stabilizers in a sport that provides little to no instant gratification.
Always remember that you decided to embark on this grind for a reason. The importance of writing those reasons down is that when motivation begins to dwindle, they will be there to stare you in the face and you will be reminded why you chose to take the long path most others are unwilling to attempt.
About Alexander Gilchrist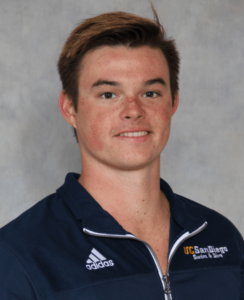 Alexander Gilchrist is a lifelong swimmer who swam his club years in Pleasanton, CA for the Pleasanton Seahawks before continuing on to swim at the University of California San Diego, currently headed by Coach David Marsh. He is currently studying International Studies/International Business in school while continuing to pursue his goals as a swimmer and expand his growth as a student and a writer.