Earlier this week we posted a Yoga for Swimmers (Video) –  3 Poses to Enhance Recovery after receiving some great response to that video we have decided provide our readers with three more poses you can use to enhance your recovery.
Legs Up the Wall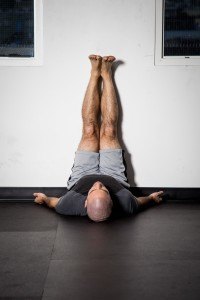 Start sitting sideways placing right side of your hip flush against the wall with your legs out in front of you and your knees bent. Pivot on your seat to the right bringing both your seat and your legs up against the wall.
Bring your seat as close to the wall as you can before bringing the legs towards straight.
Place the arms on either side of the body with the palms up gently opening through the chest.
This pose should cause a gentle hamstring stretch and will also provide you with the benefits of an inversion pose which include:
Calming of the nervous system
Improved circulation
Relieving pressure on both the spine and joints
Supported Seated Forward Fold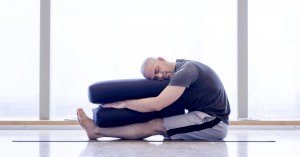 Come into a seated position with a long spine and your legs out in front of you. Bring your legs towards straight (the legs do not have to be straight) and place one or two bolsters on your legs. On an exhale fold forward allowing your head to rest on the bolster(s) gently stretching through the hamstrings and allowing the upper body to completely relax.
Supported Sphinx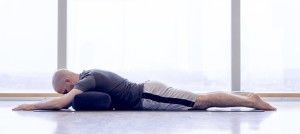 Lying on your stomach bring a bolster underneath your armpits allowing your chest to rest on the bolster. Bring your elbows shoulder width apart in front of the bolster and have the forearms flat on the ground with the finger tips pointed away from you.
As you create a gentle back bend allow the shoulders to drop back and down opening up through the chest. You can either let the head hang or you can bring the chin slightly forward.
*Pillows, cushions and blankets can be used instead of bolsters in any one of these poses
…
Restorative Yoga is a practice that uses props such as bolsters, blocks, blankets, and straps to allow participants to perform yoga poses where they completely let go of all tension and stress.
Because we are looking for a complete release of tension when performing restorative yoga you may not feel much or any an stretch once coming into a pose.
In this type of yoga poses can be held for 5-20 minutes. This method allows the body to effectively release tension. The challenge is allowing yourself to be in stillness, but stillness will help enhance recovery.
BENEFITS OF RESTORATIVE YOGA:
Taps into the parasympathetic nervous system which will:

Reduce cortisol (commonly known as the stress hormone)
Improve sleep
Increase the effectiveness of nutrient absorption

Releases muscular tension
Allow for greater sense of calm in both the body and mind
…
This Yoga for Swimmers article is brought to you by Swimming Specific Yoga the world's top resource for online yoga classes and courses designed for swimmers.

Sign up here to receive the Swimming Specific Yoga newsletter which includes information on how yoga can enhance both your swimming performance and your wellness.