In the last WISCA poll prior to both the Division 2 and Division 1 state championships both Middleton and Madison Edgewood remain in the top spots in their respective divisions.
This past weekend was Sectionals for Wisconsin girls high school swimming. State qualifiers were announced following the conclusion of all the sectional meets.
Division 1 (Big schools) 
Results have stayed somewhat static since the October 28th rankings. The top three schools haven't moved at all in the rankings. Middleton is still first, Waukesha South-Mukwonago is second, and Arrowhead is third.
Three other teams entered this week's rankings unchanged. Cedarburg remains in fifth, Verona Area-Mount Horeb in ninth, and Germantown in 10th.
Brookfield East was the only team within the top 10 improve their ranking since the following week. They moved up from eighth to fourth and now sit comfortably ahead of fifth place Cedarburg with 391 points.
Three teams dropped in their rankings this week. Sun Prairie moved from fourth to sixth, Madison West from sixth to seventh, and Stevens Point from seventh to eighth.
Despite this weeks rankings, Cedarburg is projected to defeat Middleton at the Division 1 championships next week. To read more about that click here.
D1 Sectional Results
Cedarburg Sectional – Cedarburg 361, Brookfield East 327, Menomonee Falls/Hamilton 262
Greenfield Sectional – Greenfield/Pius XI Catholic 313, Badger Co-op 299.5, Burlington Co-op 256.5
Neenah Sectional – Bay Port 341, Neenah 297, Appleton North 280
Waukesha South/Mukwonago Sectional – Arrowhead 380, Waukesha South/Mukwonago 360, Muskego 334.5
Wisconsin Rapids Lincoln Sectional – Stevens Point 398, DC Everest 336.5, Hudson 325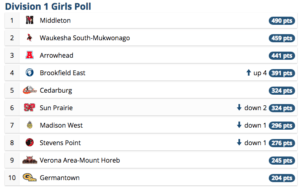 Division 2 (Small Schools) 
Much like division 1, the results of this weeks rankings haven't changed much since the latest rankings released on October 28th.
Madison Edgewood is still ranked first, McFarland is still in second, Whitnall in third, and Greendale in fourth. Merrill is the only other team that retained their ranking, sitting in eighth overall.
Monroe/New Glarus moved from 10th to ninth this week. Tomahawk is the only other team to improve their ranking this week. They moved from seventh to fifth. Their improvement bumped Baraboo from fifth to sixth and Whitefish Bay from sixth to seventh.
Rice Lake cracked the top 10 for the first time this season. They're now ranked 10th with 205 points.
Madison Edgewood is expected to win the upcoming state championships following results from this past weekend's sectional meets. To read more about it click here.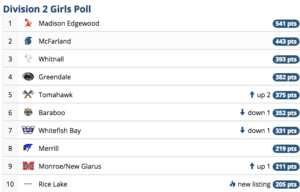 Division 2 Sectional Results 
Ashwaubenon Sectional – Sturgeon Bay Co-op 325, Ashwaubenon 291, Plymouth 285
Baraboo Sectional – Edgewood 369, McFarland 311, Baraboo 248
Colby/Abbotsford Sectional – Merrill 267.5, Tomahawk 265, Wausau East 262
New Berlin Eisenhower Sectional – Greendale 334, Whitefish Bay 312, Whitnall 311
RANKINGS METHODOLOGY
The weekly WISCA polls are computer generated and based on the WISCA Top Times database.
The polls are generated at midnight each Sunday. Individuals are scored in their top two scoring events only.
Points are awarded as follows:
Individuals: 1st Place – 30 points – 30th Place – 1 point (1 point increments)
Relays: 1st Place – 60 points – 30th Place – 2 points (2 point increments)