Tickets are now on sale for the British Swimming Championships that will run from April 18th-23rd, 2017 at the Ponds Forge International Sports Centre in Sheffield.
The meet is the primary meet on the domestic calendar in 2017 and is the primary selection meet for the 2017 World Championships.
Single session tickets start for as little as £4.96 for prelims sessions and £7.96 for finals sessions. All-heats passes are available for £35.00 each, and all-finals passes for 6 days are just £50.00 each.
World Championships selection criteria are below, as reported by Loretta Race:
British Swimming has released its qualification criteria for the upcoming major senior and junior international competitions in 2017. The bulk of the pool selections will be based off of times achieved at the 2017 British Swimming Championships, which are scheduled to take place at Ponds Forge in Sheffield from April 18th through April 23rd.British Swimming earlier revealed the qualification times to make it to the British Swimming Championships, where 54% of the women's Olympic events and 31% of the men's Olympic events saw faster qualification times for 2017 as compared to 2016. For the qualification times just announced for British swimmers vying for a spot on the British 2017 FINA World Championships roster, the standards across all events, both men's and women's are faster for 2017 than they were for 2015 Kazan qualification.

As with previous competitions' qualifying process, there is a secondary qualification table containing times within 2% of the primary table. Athletes recording a time that betters or equals that listed in the secondary table may be considered for selection, with final discretion held by the National Performance Director.

Below are the embedded time tables for the 2015 World Championships and then for the 2017 World Championships.

2015 World Championships QT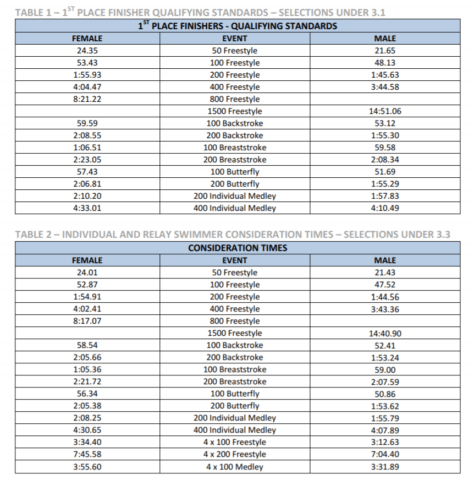 2017 World Championships QT