Courtesy of Sara Marberry
I never thought the last race I'd see my son swim in wouldn't count.
Bucknell was competing in the Eastern College Athletic Conference (ECAC) Swimming and Diving Championships at the Naval Academy in Annapolis, MD.
My son, along with two of his fellow senior teammates and a sophomore had been put on an exhibition relay team for the 400 free. Exhibition entries don't score points, but give swimmers a chance to practice in a competitive setting.
"Why are there exhibition teams in the relays?" I'd asked one of the other dads the day before. My husband and I never been to an ECAC meet and didn't know that only one team from each school could be entered in the relay events.
"Because it's the last meet of the season and Coach wants to give as many guys as possible the chance to swim," he replied. "Particularly the seniors and the kids who didn't make the Patriot League Championship team."
Ah, so that was it.  Coach wanted to give these guys one last opportunity to swim, in a relay with each other.
The weekend before, my son and those two other senior guys had swam in the Patriot League Championship meet, which is the most important meet of the entire season. The Bucknell men had placed a respectable fourth behind Boston University, Army, and Navy.
There were no limits on how many swimmers could participate from each team at ECAC. Even for swimmers in non-exhibition races who could score points, the pressure was off.
So, when my son and his buddies lined up behind the blocks as the Bucknell B exhibition team in the first heat of the 400 free relay on the last day of the ECAC meet, I had no expectations.
And then, an amazing thing happened. They swam lights out, placing third overall behind Rider University and Army. Even better, they beat Bucknell's A team by about a second.
My husband and I high-fived with each other and then high-fived with the parents of his best buds. Hearts bursting with pride, we watched as the boys grinned and gushed with Coach down on the deck.  It was a good way to end.
* * *
At Evanston Township High School in Illinois, my son had been the star swimmer on the team his senior year. At Bucknell's Division I swimming program, he was middle of the pack.
But he worked hard and always managed to drop times and score points at Patriots at the end of the year.
"What did the coach say to you?" I asked him after watching him do poorly at a meet early in his senior year.
"He said I was old," he replied.
"Yeah, 21 is really old," my husband said.
"It is for swimmers," our son answered. "Your body doesn't recover quite as quickly."
I can't believe that Coach actually said those words to him, but that's what he heard. What it would do to his mental state, I wondered?
Because I know what it's like to be an aging athlete and feel like you're slipping past your prime. As a competitive tennis player in my late 50s, I am at the point where I am facing younger and younger players on the court and winning fewer and fewer matches.
It was hard watching my son struggle. I felt bad for him. I wanted him to do well.  I wanted him to beat those fast freshmen. To finish his career at the top of his game.
I didn't want him to feel old.
* * *
I'd accepted the fact early on in his career at Bucknell that my son wasn't going to be the star swimmer on the team. But I was proud of him for working hard and continuing to drop times in his individual events at the big meets.
And every year, the times got faster.
"Wow, there's a lot of fast freshmen backstrokers on the team this year," I said to him his junior year. Backstroke was his specialty. I was worried that his position on the team would be threatened.
"Yeah," he replied. "That's a good thing."
"Why?" I asked.
"Because it means we'll have more depth and be able to score more points at the championship meets," he replied.
That's the cool thing about swimming.  You don't have to come in first to score some points. You just have to place in the top 16. So, the more swimmers you place in the top 16, the more points you score.
* * *
"When Matthew was a freshman, he was one of the fastest swimmers on the team," a senior parent told me during the Patriot League Championship meet my son's freshman year. "Now he barely finishes in the top 25. The times just get faster every year."
Matthew's mom looked like she was about ready to cry. I gave her a sympathetic smile, even though I really didn't know how she felt.
But now I do.
* * *
My son only won one individual race during his college career.  It was at a dual meet against Binghamton his junior year. 200 back. And up until his senior year, he always dropped times at the end of the season in the backstroke and individual medley.
"He didn't look like he was trying very hard," my husband said.
Our son had just finished his last-ever 200 backstroke race, clocking a time about three seconds off his personal best time. It was good enough to place him 18th out of 36 swimmers in the ECAC meet, but not in the finals later that day.
Our son did not swim well. But I can't believe he wasn't trying. Having tapered for the Patriot League Championship meet the week before, he wasn't at his physical peak. And mentally, he was ready to be done.
When he looked up at my husband and I from the pool deck after his race was over, I could see his disappointment. He had wanted to swim faster. He believed that he could swim faster.
But he also looked relieved. I looked at my husband.  He shrugged and gave me a look that said, "Well that's that."
My eyes welled with tears. It was the end of an era. I'd never get to see my son swim as a college athlete again.
All those trips from Chicago to Lewisburg. Traveling by plane or 20 hours in the car driving to and from Bucknell. Even more hours sitting in the stands. And not only the time, but also the money we spent on gasoline, plane tickets, hotel rooms, and food. The friendships we'd forged with other parents, most of whom we'll never see again. We were invested in his sport in a way that our son will only understand if he experiences it as a parent someday.
But I was also crying because I'd wanted him to go out on a high note.
And later that day, my son and his teammates did go out on a high note when they swam in that exhibition relay. He swam faster than any of his teammates. The look on his face is one I'll never forget.
That time, I didn't cry.  I was just happy for him.
About Sara Marberry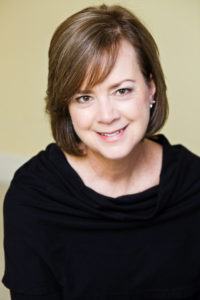 Sara Marberry is a mother, wife, writer, blogger, and marketing consultant based in Evanston, IL. Her memoir and opinion pieces about work/family life and growing up in Central Illinois have appeared in "The Blue Hour Magazine," "Realize Magazine," and "This I Believe."  Her blog, "The View From Here" can be found at saramarberry.blogspot.com.