Water Polo Video, courtesy of Universal Sports Network, can only be seen in the United States.
The USA Women's Senior National Team finished group play 2-1 at the FINA World Championships following a 17-2 win over Japan. Maggie Steffens (Danville, CA/Stanford/Diablo) scored four goals in the win while Ashleigh Johnson (Miami, FL/Princeton/Miami Riptides) and Sami Hill (Santa Barbara, CA/UCLA/Santa Barbara) split time in net recording five saves. Today's match can be viewed on Universal Sports at 6pm et/3pm pt. Team USA now moves on to meet Hungary on Saturday in the second round. That match will decide whether Team USA advances to the top eight of the tournament. The game is currently set for 6:50pm local time/8:50am pt. As soon as updated streaming/television information is available it will be posted here.
Team USA shrugged off a tough loss to Italy on Tuesday night and wasted little time dispatching Japan on Thursday morning. Steffens scored two straight goals to open the match with a 2-0 lead in the first three minutes. Rachel Fattal (Seal Beach, CA/UCLA/SOCAL) followed with a score and Kami Craig (Santa Barbara, CA/USC/Santa Barbara) capped the period with the first of her three goals for a 4-0 lead.
The second quarter was more of the same with Maddie Musselman (Newport Beach, CA/Corona del Mar HS/CdM Aquatics) and Makenzie Fischer (Laguna Beach, CA/Laguna Beach HS/SET) building a 6-0 lead with 5:16 to go in the first half. Steffens and Craig came back with two more goals in the next two minutes to take an 8-0 lead into intermission.
In the third quarter the United States left no doubt in the result piling up six goals. Ahead 12-0 Ashley Grossman (Santa Monica, CA/Stanford/LAWPC) tacked on the final two USA goals of the period to go ahead 14-0 with 1:44 left. Japan broke through for their first goal moments later on a score from Yumi Nakano, trailing 14-1 after three.
Despite another goal from Nakano, Team USA would cruise to victory comfortably thanks to three more goals from Grossman, Fischer, and Musselman winning 17-2. Team USA went 3/5 on power plays and did not attempt a penalty while Japan was 0/4 on power plays and did not attempt a penalty.
Scoring – Scoresheet
USA 17 (4, 4, 6, 3) M. Steffens 4, K. Craig 3, A. Grossman 3, M. Fischer 2, M. Musselman 2, R. Fattal 1, C. Mathewson 1. K. Neushul 1
JPN 2 (0, 0, 1, 1) Y. Nakano 2
Saves – USA – A. Johnson 3, S. Hill 2 – JPN – M. Rikako 1
6×5 – USA – 3/5 – JPN – 0/4
Penalties – USA – 0/0 – JPN – 0/0
See Tim Binning – theswimpictures.com – photo vault below: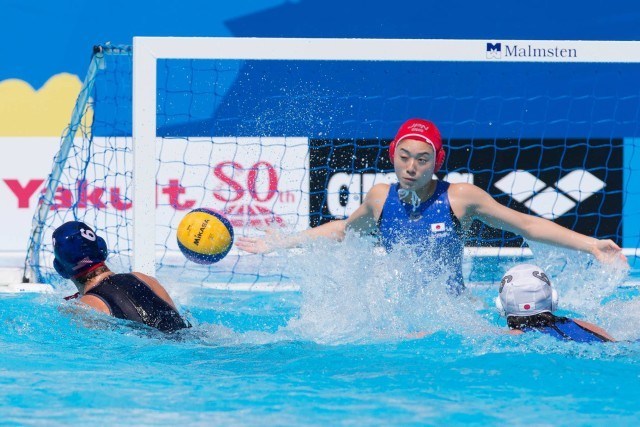 Water Polo News is courtesy of USA Water Polo.