Swim Training courtesy of FINIS, a SwimSwam partner. Featured image courtesy of Mike Lewis: Jason Dunford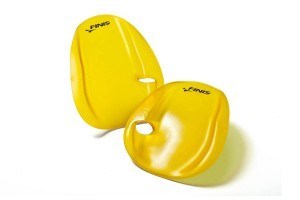 Agility Paddles are an excellent technical tool for a number of reasons; not only do the Agility Paddles promote Early Vertical Forearm in freestyle, but they are also extremely useful in butterfly, backstroke and breaststroke. Backstroke has a particularly relevant application as the pressure needed to hold the paddle in place forces the user to catch water immediately following the overhead entry. Coaches can see the difference as the swimmer anchors their elbow earlier in the stroke than they would have before using the paddles. When using the Agility Paddles to swim backstroke at a fairly decent tempo, swimmers of all skill levels will immediately feel the improvement in stroke efficiency.
To put the versatile benefits of the Agility Paddles to use, try this week's Workout of the Week (see below).
400 Warm Up
4 Rounds with Alignment Kickboard (600 yards/meters)
1 x 25 Breaststroke Kick
1 x 50 Dolphin Kick
1 x 75 Flutter Kick
4 Rounds with Agility Paddles (1200 yards/meters)
2 x 25 Backstroke Right Arm Only
2 x 25 Backstroke Left Arm Only
2 x 50 Backstroke 6 Kick Switch
1 x 100 Backstroke Build
3 Rounds (1200 yards/meters)
1 x 200 150 Easy Freestyle, 50 Fast Backstroke
1 x 200 100 Easy Freestyle, 100 Fast Backstroke
1 x 200 50 Easy Freestyle, 150 Fast Backstroke
1 x 200 Fast Backstroke
400 Cool Down
Total: 3,800 Yards/Meters