We are excited to announce SURGE Strength's Core Training Challenge. Everyone recognizes that core strength is important for swimmers. So what better way to kick of this swim season than the dryland community testing their core strength?


For this Core Training Challenge we'll be using one of our Performance Tests that you learn about if you enroll to become SURGE Strength Dryland Certified (SSDC). This specific test is the Bridge Combo Test. It only lasts up to two and a half minutes but it can get intense quickly.
There are two categories to enter to win prizes from SURGE Strength! Those categories are for individual swimmers or a swim team/group of the program. And don't worry your current ability WILL NOT determine if you end up winning the contest!
At SURGE Strength we strongly believe that it's not where your dryland ability begins or even is currently. But rather, it's that you can see continual progress from your dryland program.
If you keep improving then great you're well on your way! Unfortunately most dryland programs don't allow swimmers to continually improve and actually help their swimming performance. That's why our mission is to raise the standard of dryland training for swimmers everywhere!
HOW TO ENTER THE CORE TRAINING CHALLENGE AND WIN!
Watch the Video Below of the Bridge Combo Test from the

SURGE Strength Dryland Certification Curriculum

Perform the Bridge Combo Test Yourself or with Your Swimmers
Tell and Show Us How It Went!

Submit an entry form

by the deadline (entires accepted through the end of September 9/30)
Bonus points for tagging

@surge.strength on Instagram

with a video of your or your athletes doing the test
There are two categories that you can enter to win:
1) Individual Swimmer:
You have a chance to win a FREE Dryland Training Program from SURGE Strength's Dryland Certified Coaches through the rest of 2021! You could be just a few minutes away from having a dryland program that transforms your swimming performance this season!
2) Team/Program/Group Entry:
As the coach of the group or program entering, you'll have a chance to win a call with Chris Ritter, creator of SURGE Strength, to talk about your dryland program and how to improve it this coming season.
A random entry from each category will be selected in early October after the 9/30 deadline has passed and the winners will be announced. Good luck!
JOIN OTHERS FROM AROUND THE WORLD THAT ARE
BECOMING SURGE STRENGTH DRYLAND CERTIFIED (SSDC)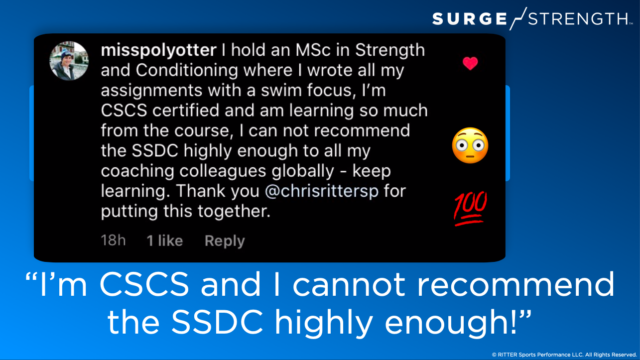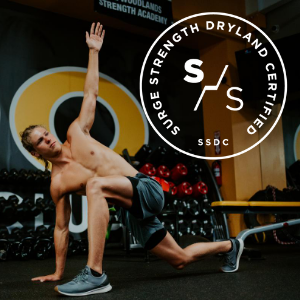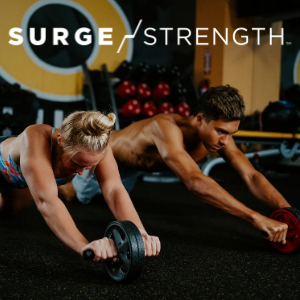 BUILD BETTER ATHLETES TO GENERATE FASTER SWIMMERS


Courtesy of SwimSwam's exclusive dryland training partner, SURGE Strength.
SURGE Strength, a strength training brand created by Chris Ritter, CEO of RITTER Sports Performance, aims to build better athletes and faster swimmers through dryland programs, and coaching education.