Courtesy of Kim Vandenberg / Excelle Sports and Mutual of Omaha BREAKOUT Swim Clinic, a SwimSwam partner. 
Every Olympic year is emotional. The visions, the goals and the sacrifices—day in and day out—together accumulate to one moment in time. A pivotal and life-changing moment that is the absolute epitome of athlete excellence: the Olympic Games. The Rio Olympics were filled with stories of athletic triumphs, drug scandals and security mishaps. Yet, behind the scenes were the deeper personal journeys of athletes in the midst of the pressure-filled competition.
Open water head Olympic coach and associate head swim coach of University of Southern California, Catherine Vogt, knows how to get results. Her ability to produce high performing athletes is evident as she successfully led the USC women to their first conference title in 2016 and the USC men to a Pac 12 title during the 2014-2015 season. Vogt has been the head coach for open water swimming at the 2009, 2013, and the 2015 World Championships. She coached five-time open water swimmer of the year Haley Anderson to a silver medal performance in London as well as a fifth place finish in Rio this past summer. Her versatile skills in coaching both pool and open water swimmers has awarded her four Glen S. Hummer Awards, an award given to the person or group making the greatest contribution to open water swimming among USA Swimming members. Last month in Southern California, Vogt took the time out of her busy schedule to discuss her Rio Reflections with Excelle Sports.
Vandenberg: How was Rio? Are you happy with Haley's performance?
Vogt: I think Rio was a perfect example of how so many things were out of our control. It was crazy all year. The open water athletes were qualified a year out while the pool swimmers have five weeks where everything is really exciting and intense. The open water athletes had an entire year of preparations and dealing questions about water quality, the Zika virus, and security issues. The village was an hour and a half away from Copacabana beach, where the actual race was, so we ran into some issues with transportation and lodging closer to the race. Overall, I am really proud of Haley, she was in fifteenth place with one lap to go. It wasn't a strategy we really necessarily talked about so she wasn't able to implement some of the things we wanted to do but she went from fifteenth to fifth. She defines tough with the challenges thrown at her. This time it was about the experience and the journey for both of us. She was the most dominant of anybody that did two Olympic Games in open water. That's really exciting that she has been able to maintain that and be the most dominant American open water swimmer for a few years now.
KV: Yea, she said it took her a while to be happy with her race, obviously she had the expectation to medal and to be on the podium but then looking back she didn't give up on the race and she finished strong. That is what defines a champion swimmer, I think.
CV: Definitely and I think part of the preparation too was hard because of athlete safety and in being able to train on a course in a venue. In my opinion that is important and things were just limited because of the location of the race. That made it hard because you don't want to put the athlete safety in jeopardy.
KV: Was she training in the open water before the race or was she in the pool?
CV: We were in the village. I looked at the Europeans and how they dominated both races so I am comparing that. They stayed closer to the beach, closer to the venue so I wish we had. We talked about it and we went back and forth on it but everyone thought the village was the safer place as far as having a pool to train in but this race was defined by legitimate open water athletes that have a lot of race experience. I think that as Team U.S.A. we were not sure that we could train in the course, that our athletes could be in Copacabana beach four days before the race but all of this came up in hindsight. You know in London, things were a lot more controllable. But I think following suit of triathlon in the future would be really good. It was a learning experience.
KV: How did this compare to London? It seems like London was a lot more structured.
CV: Definitely, structured and I think expectation wise, Haley qualified a month out of the London Games. I think one of the things this year was that she was really focused and she had a training plan, she had a racing plan and she stuck to that so that is why we feel really good about her results because ultimately she did everything she wanted to do. Do I think there are things she could do in the future that would make her better? Yes. At the end of the day, in open water you aren't racing a clock, you are racing the people around you and then given all these obstacles on top of that.
KV: Yea, Haley was saying that the last lap when she was trying to put herself in the right position, some of the girls were getting nasty in the water, that is crazy. How do you deal with that?
CV: I think the racing experience card is important in this. If you learn how other people race around you race and have information on your competitors, that is important. The dynamic is sort of like a cycling race, you can never tell when the peloton is going to take off or when someone is going to take off. All you can do is learn how to manage your stress and manage what is happening to you.
KV: Did you get a chance to watch other sports while in Rio?
CV: Yes, the pool swimming. I did make an effort but I think that that is another challenge too about being there, you know open water is still newly evolving, we have been in three Olympic Games, to three different venues, and we are still trying to figure out how we operate. Do we operate as an extension of the pool team? Do we train specifically open water? I think as a whole we are still trying to figure out how to operate. Pool swimming was at ten at night and open water athletes were at in bed because we were up training at 7:30am and pool swimmers were racing late at night. So I did make it to the pool. I was excited to watch a few swims. I'm so happy for Anthony Ervin, getting to know him the last year he worked with us and Katie Ledecky just crushes it every time she swims. We went to San Antonio training camp with the pool swimmers and then we went on a separate training camp in San Diego.
KV: Did you have a favorite moment of the Games?
CV: I think walking through the village and being just amazed at the different shapes and sizes of the athletes. I think the really awesome thing about staying in the village is that everyone is eating the same thing, everyone is staying in the same conditions.
KV: Did you get to travel after?
CV: No, this is why I am completely burnt out. You want to know how I really feel after Rio? I feel horrible, I feel exhausted, and I feel like I can't keep up with my entire life. It's like, you don't stop being a parent, recruiting doesn't stop, school starts, move in day, I don't have time to talk to the freshman about how their transition is going. In all honestly, no it's really hard coming back. Not to mention all the doping stuff, it has just been a lot. I haven't had any time to myself or my friends. I have to carve out my boundaries. We have an off weekend in October and I am going to Cabo, Mexico and I am going to take a vacation. I need that.
KV: I bet! How does the team look for USC this year?
CV: I just got promoted to associate head coach so that is really nice. I think it is a nice thing that they all really respect me. I try to be the best version of myself on deck. Not mom, not parent, not female, whatever it is. If you as a coach set the boundaries and the expectations, then the kids are going to respect you. What you echo is what you are going to get back, right? So if you respect the kids and build trust, they will be willing to go that extra mile for you.
Excelle Sports lifestyle editor Kim Vandenberg is an Olympic bronze medalist, Pan American gold medalist, World Championship silver medalist and three-time U.S. national champion and French national champion in swimming. She's also a member of Excelle's Athletes Council. 
About Mutual of Omaha BREAKOUT Swim Clinic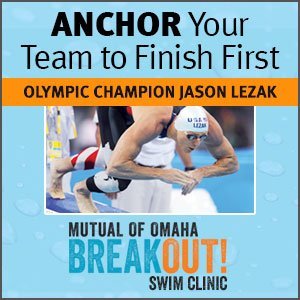 Josh and Shantel Davis operate the Mutual of Omaha BREAKOUT! Swim Clinic and work closely with each client to ensure everyone has the experience of a lifetime. In the swim clinic business since 1995, they have a keen awareness of how to tailor clinics to meet clubs' needs and exceed their expectations.
As living proof that with hard work, dreams do come true, Josh and Shantel, along with Mutual of Omaha, believe every child has the potential for greatness. They and their staff look forward to working with your swimmers to get them closer to reaching their dreams.
"Dreams come true…never stop believing."
Courtesy of Kim Vandenberg / Excelle Sports and Mutual of Omaha BREAKOUT Swim Clinic, a SwimSwam partner. 
AB