Courtesy of Stas Holodnak
An estimated one week long renovation of my Bay Ridge apartment dragged into the fourth week and so has my stay in my parents in-law's home in Coney Island. I've been to Coney Island beach many times, my visits preceded by the extensive search for a parking spot under the blazing sun. By the time I got to the beach, the sand was too hot to thread barefooted and the water by the shore had a musty feel to it. The water got cleaner and clearer as it got deeper but one would still have to go through the musty part to get out. There is none of that when you come to the beach early in the morning. Timing and location as it happens makes all the difference.
First things first – when I get in the water temperature change is usually the first thing my body registers. Not this time. The water felt same as the air. It felt like lying down on a soft and absorbent mattress. It was clear, you could see sand and shells three feet deep. Like the land in the early morning, the ocean is filled with freshness. The difference is – the ocean gives it back. Swimming for twenty minutes let me feel fresh and sharp for hours. I came because I wanted to swim, but after a few days it was the composure boost I started craving and I was going to the beach everyday before work to get it.
At six o'clock in the morning there were no lifeguards on duty to whistle me back as I passed the jetty, my flip flops resting on the lifeguard's chair could not care less. The sun was rising on my left and the full moon was high in the sky on my right. With my head just above water I could see only ocean ahead of me. The Earth appeared to me as a wholesome planet detached from myself. The name of this planet could be different, there could be two suns and three moons and I would feel just the same. I was a visitor from some place else on vacation. One doesn't get this feeling in a swimming pool.
This planet of mine was not uninhabited. Suddenly I saw something approaching from the direction of Staten Island. All I could make out was an orange spot moving in a circular pattern. It seemed like a small helicopter was methodically cutting through the water coming straight at me. I swam back to shore as fast as I could with the creature narrowing the distance between us. We reached the shore at the same time. The creature stood on its own two feet and spoke. It was not the water cutting alien helicopter. It was Igor my neighbor and a fellow Ridgite.
For ten years Igor has been coming to Coney Island. He claims that it takes him no more than half an hour to reach the beach by riding a bike. Weary of sleepy drivers he wears a bright yellow luminous jacket and his bike bristles with light reflectors and bells. On water he too is clearly visible. From an orange colored Tide detergent bottle Igor carved out two circles each the size of a salad plate. On the opposite edges of each plate he fastened a tight piece of string to keep his hands in place attached to the plates. When he swims backstroke, the plates function as oars affording him a nice speed. On land Igor is just another physics professor – on water he is a human row boat.
At six o'clock one can meet all sorts of odd characters. There was an old fisherman who greeted people with "I came here but fish didn't". He was insincere, as I saw a few powerful splashes further away from the beach. I met Gennady, a young man, who after swimming liked to rub sand in his hands and face. It didn't look out of place since in the morning Coney Island beach sand is spotless – cleaned by the Park Department's machinery Zambony style. Then there was Igor's friend Bill who was coming to the beach around five am to be the first person to go in. Bill says it feels different when someone is already in the water before him. It's the ocean that attracts these people even if they channel out that pull in their individual ways.
It didn't feel smooth and balmy during my last visit. There were waves and the water felt cold. It was time for me to go back to Bay Ridge. For all its fame Coney Island doesn't give you a feeling of a neighborhood. It's a loud place that feels less safe. One morning a large man tried to extract some money from me for a "coffee and a donut". The other day instead of a shell in the sand I discovered a homeless man sleeping under the lifeguard's chair.
Next to the noisy Coney Island Bay Ridge looks like a quiet suburb but unlike most suburbs it's not landlocked. Bay Ridge shares with Staten Island the scenic Narrows strait through which cruise ships and ocean going sailboats pass but people are not allowed to swim there. Alongside the Narrows runs a long, beautiful promenade. There you will have a pleasant stroll with nice water views but you can't stroll to the beach.
About Stas Holodnak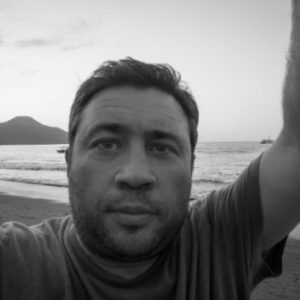 The very first time Stas saw the sea was as a little boy. He saw it from a bus window at the end of a bumpy twelve hour ride. The Black Sea appeared to him as blue as the sky itself only much crisper and within reach. Today Stas lives in Brooklyn mere steps from the water. If he is not swimming or sailing – he is writing about it.