Courtesy of AthleticFoodieTM, a sports performance company that helps athletes unlock their potential
Written by Cristina Caldwell
You've likely heard that plant proteins are not sufficient for athletes, not true!
It is possible to consume all of the protein you need from non-animal sources.*
Protein is essential for muscle growth and repair. In order to make muscle, however, your body needs to have the right combination of amino acids.
Amino Acids: called the building blocks of protein, as they combine to form protein. There are 3 types of amino acids: essential, nonessential, and conditional. Some amino acids cannot be made in our body, some are made in the body, and some are not essential except in times of illness or stress.
In order to rebuild muscle, we need all of the amino acids. Animal products contain all of the essential amino acids. Most plant proteins do not contain all essential amino acids, which means that in order to consume all essential amino acids, you must consume a wide variety of plant proteins.
As nutritionists, we used to worry that it was critical to combine foods at each meal, in order to form complete proteins (ex. Beans and rice create a complete protein). We now know that a balance of plant proteins throughout the day is sufficient.
The Plant-Based "Complete Proteins" that Athletes Benefit from Including in their Diet:
Soybean products: tofu, edamame, soy milk
Quinoa (a core ingredient in AthleticFoodieTM pre-workout granolas)
Hempseed
Buckwheat (a core ingredient in AthleticFoodieTM pre-workout granolas)
Blue Green Algae
Plant-Based "Incomplete Proteins" that Athletes Benefit from Including in their Diet:
Eat a variety of these each day, to make sure you are making complete proteins
Beans-black, pinto, navy, kidney, Lima, garbanzo, etc.
Nuts-almonds, walnuts, pecans, cashews, etc. (core ingredients in AthleticFoodieTM post-workout trail mixes)
Nut butter/peanut butter-almond butter, cashew butter
Rice- brown rice, white rice
Lentils-red, brown, green
Peas
Oats (the main ingredient in AthleticFoodieTM pre-workout granolas)
Broccoli
Seeds-chia, sunflower, pumpkin, etc. (a core ingredient in AthleticFoodieTM pre-workout granolas, and post-workout trail mixes)
Seitan (wheat gluten that can be made into crumbles like ground beef or patties)
Athletic Performance Meals that Make "Complete Proteins":
Leafy green salad with quinoa, garbanzo beans, seeds and vegetables (broccoli and peas)
Red Beans and Rice
Whole wheat pasta with marinara sauce (cannellini beans and vegetables added to the sauce)
Oatmeal made with almond milk topped with raspberries and pumpkin seeds
Buckwheat blueberry pancakes topped with crushed pineapple
Baked sweet potato topped with black beans, avocado and salsa
Including vegetable proteins in your diet is a great way to help your body get the nutrients it needs to improve performance.
*The one vitamin that cannot be obtained from plant sources is vitamin B12. If you want to explore a completely plant-based diet please consume a vitamin B12 supplement. Before starting a completely plant-based diet, please reach out to your family physician for guidance.
If you want to swim your best, eat like a true champion, and visit www.athleticfoodie.com, to order AthleticFoodieTM snacks that are fueling many of the world's fastest swimmers!
Author: Cristina Caldwell
Cristina Caldwell works with AthleticFoodieTM to create useful nutrition information for athletes and parents. Cristina is a former Div. 1 swimmer at Miami University, is a Certified Sports Nutritionist, and is the founder of Fueled and Focused. She works one on one with youth and adult athletes, and has a customized meal plan service designed to provide athletes with fueling guidelines for peak performance. To learn more about her services or to sign up for a customized meal plan, go to www.fueledandfocused.com.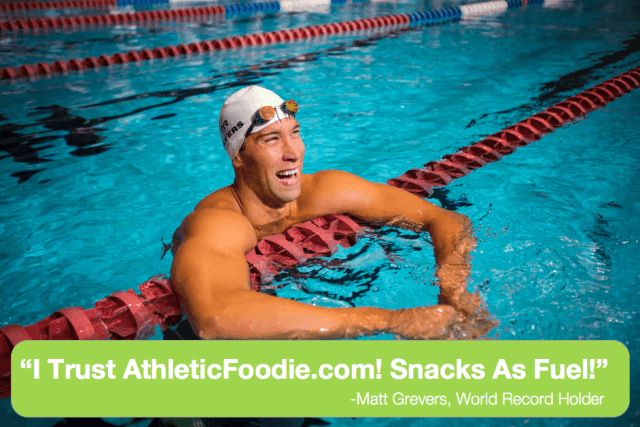 AthleticFoodieTM is a sports performance company, founded by Olympic Gold Medalist Garrett Weber-Gale, which makes snacks that are specifically designed to help athletes perform. Please visit www.athleticfoodie.com for more information about ordering AthleticFoodie snacks, and getting fuel that will help you swim fast.
About Garrett Weber-Gale, Founder of AthleticFoodieTM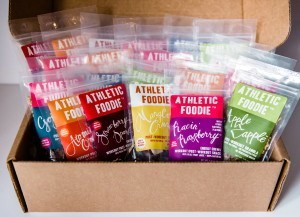 In 2005, Garrett was diagnosed with dangerously high blood pressure, and was almost forced to give up his Olympic dream. Luckily, a small dose of medication, and a total revamp in his diet saved his dream and put the Olympics back in sight. Garrett began to see the direct connection between what he put into his body, and what he could get out of it.
After his diagnosis with high blood pressure, Garrett made it his mission to learn how to make healthy food taste great. He's traveled the world working in famous restaurant kitchens in Italy, France, Copenhagen, Spain, and New York City. Garrett has taken his knowledge and experience from all over the world, and shared it with others through speeches at the White House, to schools, sports teams, TEDx, universities, TV and radio appearance, cooking classes, authored articles and AthleticFoodie Events.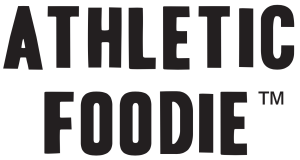 AthleticFoodieTM is a SwimSwam content partner.