The Pheonixville Area School District of Schuylkill Township, Pennsylvania, has agreed to partner with local non-profit Valley Forge Aquatic Center, Inc., to build a $25 million aquatic center on 16.75 acres of land.
The proposed name is The Philadelphia Aquatic Center, and plans for the facility feature an Olympic-sized pool, a diving well, and a separate shallow warm water to host swim lessons. There is also a proposed area for healthcare providers to administer aqua therapies.
The following mock-ups were done by Spillman Farmer Architects, whose president Dan Harrigan is notably the 1976 Olympic  200 back bronze medalist.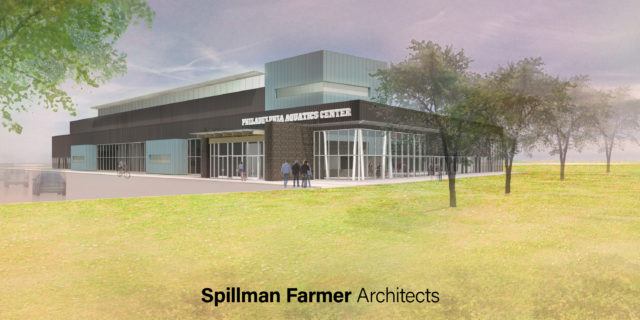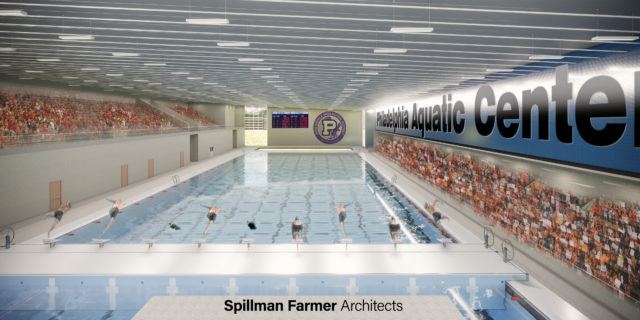 Phoenixville YMCA volunteer swim coach Dan Cooke (father of current Penn State swimmer Maddie Cooke) proposed the project five years ago. He and others who saw the need for such a facility fundraised $30,000 for a feasibility study performed by the Isaac Sports Group (of youth tech suit study fame). The study concluded that the aquatic center would be beneficial to the community's needs in multiple aquatic  areas, and that comparable facilities nation-wide are doing well financially.
So, Cooke and company created three objectives for the proposed facility:
To teach children to swim and help them develop through aquatic sports,
To inspire excellence in competitive aquatics,
To encourage lifelong fitness for people of all ages and abilities.
With those goals in mind, VFAC and the school district have entered a 50-year lease on the land. The district will receive lease payments for the land in the form of credits for swimming, diving, water polo, and learn to swim program time – a projected total value of more than $1.1 million over the duration of the agreement.
In the project's press release, PASD Superintendent Dr. Alan Fegley describes the project a  "an amazing example of a public/private partnership." He continues: "They [VFAC] will be using a piece of land that has been unused and building something for the public good."
The targeted opening date is July 1, 2023, and VFAC will manage the facility. Additionally, VFAC has nabbed six-time Olympic medalist Brendan Hansen – a Havertown, PA, native – to serve on the project's advisory board.
VFAC has raised around $1 million thus far, and is in the process of hiring a fundraising/philanthropy consultant for the rest. The University of Valley Forge (where the facility with be located) also plans to partner. According to Cooke, VFAC is in talks to find a healthcare partner to bridge the "missing link" in funding.