Michael Phelps Signature Swim Spas by Master Spas were developed with input from 23-time gold medalist Michael Phelps and his coach Bob Bowman for all types of training, swimming, fitness programs and aquatic therapy.
We asked Bob Lauter, CEO of Master Spas, these 6 questions:
Q: What are some of the therapeutic and wellness benefits of hydrotherapy and of the Michael Phelps Signature Swim Spa by Master Spas?
A: While the aerobic benefits of swimming are well known, a Michael Phelps Signature Swim Spa by Master Spas is for more than just swimming. The buoyancy of the water removes 90 percent of the stress that land-based exercising places on the body, making it the ideal place to recover from hip, knee or back surgery. The powerful therapy jets help to relieve aches and pains. The standing therapy cove brings that powerful therapy to hard-to-reach places such as the lower back, hips and legs.
Q: What input did Michael Phelps and his coach, Bob Bowman, have in developing the Michael Phelps Signature Swim Spa?
A: In 2010, we introduced our top-performing swim spa to Michael and Bob. They loved the Wave Propulsion System from the start, as well as how adjustable it was, thanks to the SwimNumber System. But for a unique athlete like Michael—who is tall and has long arms—the swim area needed to be made deeper and longer. We also needed to make the Wave Propulsion System 40 percent faster so Michael had a speed that would be challenging in his everyday workouts. The result of their numerous suggestions was the development of the Michael Phelps Signature Swim Spa. The next year, we installed the Signature at their training facility in Baltimore—complete with an underwater camera—so they could use it on a regular basis. Michael credits instruction in the swim spa with helping him develop the best freestyle stroke of his career.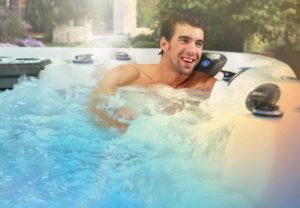 Q: Design-wise, what sets the Michael Phelps Signature Swim Spa apart from a traditional swim spa?
A: In addition to being deeper and longer than a traditional swim spa, the Michael Phelps Signature Swim Spa has a large flat floor that is perfect for running against the current or aquatic exercise. The optional SoftTread Nonslip Comfort Floor System provides a slip-resistant surface and comfortable padding on which to exercise.
Q: Tell us about the SwimNumber iPad app—how does this help people meet and track fitness goals?
A: SNAPP allows multiple users to customize their workouts, and make them more effective. The Wave Propulsion System varies the speed of the water current at timed increments while you are swimming or exercising. Not only can you design your own custom workouts, the app also features pre-programmed workouts at beginner, intermediate and advanced levels. Tracking of fitness progress with metrics such as distance, calories and time can be easily documented and stored. You can manage stored workouts for future reference, as well as share your results on social media or via email.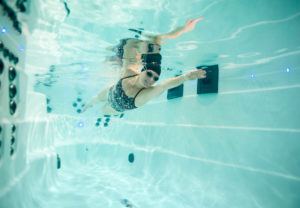 Q: How does the Michael Phelps Signature Swim Spa support athletic training?
A: The swim spa is a great cross-training tool that lets land-based athletes train in a less stressful environment, but still work on explosiveness and quickness. Triathletes, skiers, hockey players, basketball and football players and more all benefit from training in a swim spa.
Q: Is there anything else you'd like us to know?
EASY INSTALLATION
Unlike a pool, a Michael Phelps Signature Swim Spa can be installed onto a concrete slab in as little as one day.
GIVING BACK
For every Michael Phelps Signature Swim Spa sold, a donation is made to NAZ Children's Centre, a K-6 school that also serves children with special needs, in Montego Bay, Jamaica. Master Spas was instrumental in building NAZ's new school and installed a Michael Phelps Signature Swim Spa for the kids to learn how to swim.
Master Spas also supports the Michael Phelps Foundation, which provides water safety programs for children. MichaelPhelpsFoundation.org
SPECIAL OFFER: Visit MichaelPhelpsSwimSpa.com/swimswam for a $1500 Coupon and to find a Master Spas dealer near you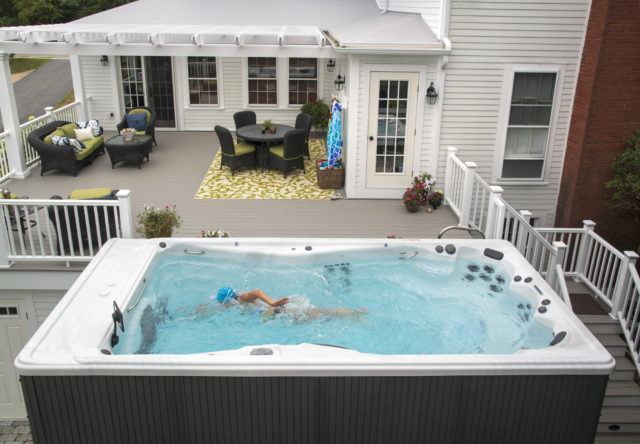 Swimming News courtesy of Master Spa, SwimSwam Partner.