Level of Commitment

Full Time

Position Type

Assistant Coach

Level of Team

College (Division III)
Location: 1189 Beall Avenue, Wooster, OH, USA
with The College of Wooster
Assistant Coach, Men and Women's Swimming
SUMMARY:
Assists in the coaching duties of the Men Women's Swimming programs governed by NCAA Operating Bylaws.  Oversees one or more specified areas of the sporting discipline or component of a team and assists the Head Coach with all aspects of recruitment and training of student-athletes, and the total organization and administration of the program, as assigned.
ESSENTIAL DUTIES AND RESPONSIBILITIES:
Assists the Head Coach in organizing, preparing, and conducting individual and team practices, training, and competition.
Assists with the design of workout programs and training routines to improve athletic performance.
Assists, as directed with implementing and supervising athletic training, strength, and conditioning workouts, provides technical support and training to athletes, as appropriate to the sport.
Conducts recruitment of student-athletes in accordance with NCAA rules.
Assists, as assigned, in planning and arranging team travel; may coordinate personnel and equipment transportation and accommodations.
May perform administrative duties including working with purchasing/facility manager on ordering and maintaining equipment and supplies, and event management.
REQUIRED QUALIFICATIONS/SKILLS:
Bachelor's degree (B. A.) from four-year college or university; or one to two years related experience and/or training; or equivalent combination of education and experience. Knowledge and understanding of the specified sports program.  Knowledge of NCAA regulations and guidelines governing the recruitment and retention of student-athletes.
CERTIFICATES, LICENSES, REGISTRATIONS:
Must have a valid Driver's License, CPR, First Aid, and appropriate sport specific certification.
Level of Commitment

Full Time

Position Type

Assistant Coach

Level of Team

Club
Location: Charlotte, NC, USA
with Aquatic Team of Mecklenburg (ATOM)
Aquatic Team of Mecklenburg (ATOM) is currently seeking an energetic, knowledgeable and passionate full time swim coach for our sites in the Uptown and Southpark areas of Charlotte, NC. Applicants should be able to write practices, administer dryland workouts, complete meet entries, attend meets, and communicate with parents. Applicants will also be responsible for creating a culture of care and hard work. The coach would be on deck five days to six days a week and an average of one to two meets per month. Applicants should have a minimum of two years of coaching experience. Wage based on experience and expertise.
ATOM is a growing club located in Charlotte, NC that has emerged as a presence on the State, Sectional and National Level. They have continually qualified swimmers for competition at the highest level and have produced National qualifiers, State record holders, Nationally ranked athletes, Sectional and State Champions all while focused on developing swimmers within the program and teaching the fundamentals of swimming to all ages. ATOM also has a rich history of producing athletes who have competed on the collegiate, national and international level. The team currently has just over 160 swimmers, and is focused on creating an environment where all swimmers can be successful.
Level of Commitment

Full Time

Position Type

Assistant Coach

Level of Team

Club, Other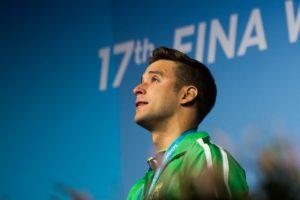 Location: South Africa
with Team CleC
Job Title: ASSISTANT COACH – CHAD LE CLOS
Contract: Fixed Term (1 – 2 years)
Location: Europe, Middle East, and Africa (with travel)
SCOPE
Chad le Clos is one of swimming's biggest global stars with World, Olympic and Commonwealth titles and an unbelievable journey to date, having first burst into the public eye when he beat his childhood hero, Michael Phelps at the London Olympics.
We have an exciting opportunity for a young coach to join Team CLeC as Assistant Coach to work with Chad across all aspects of his training and performance on his way to becoming the fastest in the world.
Team CLeC are hard-working and strive to go the extra mile in order to be the best they can be.  Our existing team is made up of Head Coach Andrea Di Nino, world renowned Italian coach with over 20 years' experience which includes success at multiple Olympic, World and Commonwealth games, as well as academic research in swimming; Dryland Coach Silvio Barnabá, also current strength and conditioning coach of U20 Italian National Basketball Team; and Performance Manager Jonathan Guy, who are all dynamic and passionate individuals.
For more information see www.chadleclos.com
JOB PURPOSE
Assistant Coach for Chad le Clos, working with Head Coach Andrea Di Nino

Oversee the day-to-day coaching programme

Manage all training sessions with Chad le Clos

Assist with schedule management; including WADA, event entries and travel itineraries

Travel with Chad le Clos to Energy Standard Training Camps and International competitions as required
EXPERIENCE
It is essential that the candidate has at least 2 years' experience with:

proven coaching qualifications

comprehensive understanding of the global elite swimming set up (former elite swimmer would be considered an advantage)

Degree in physiology or sports education would be considered an advantage
SKILLS
Passionate and self-motivated individual

Ability to work under pressure

Excellent verbal communication skills – English preferred first language or fluent written / spoken

Strong written skills, with experience of the Microsoft Office suite

Strong attention to detail

Strong organisation and time management skills

Discretion and understanding of confidentiality matters
OTHER
Desire to learn from Head Coach Andrea Di Nino, and Dryland Coach Silvio Barnabá

Flexibility to travel where / when required by Chad / Head Coach
Start date:   ASAP
Salary:    Competitive
Applications: Please send your CV and a covering letter to [email protected]
Deadline: 30/05/2018
Level of Commitment

Full Time

Position Type

Assistant Coach

Level of Team

College (Other)
Location: Singapore
with UWCSEA
UWC South East Asia is a K-12 international school that provides a life-defining educational experience to more than 4,500 students spread over two campuses in Singapore.  UWCSEA educates individuals to embrace challenge and take responsibility for shaping a better future. Join us as:
SWIMMING COACH (Full time)
UWCSEA Phoenix Swim Team is searching for an energetic swimming coach to join our program. The successful candidate will be responsible for the planning and implementation of training sessions for a junior squad, as well as assisting the Head Coach with the coaching of the middle and high school performance squads. As a school program, there are also curriculum PE and Learn-to-swim commitments, which are delivered in line with the UWCSEA ethos. This would be an ideal position for an experienced coach of junior swimmers and/or learn-to-swim.
Responsibilities
Assist the Head Coach with the middle/high school competitive squads
Coaching of the competitive and non competitive Junior School squads (aged 7-11 years) including detailed session planning
Assist teachers with PE aquatics classes, including learn-to-swim, stroke development and other aquatics activities
Lead learn-to-swim (LTS) classes – including detailed lesson plans
Complete swim meet entries (through 'Team Manager' – training available)
Attend and coach at meets in which the Swim Team is competing
Positive and energetic delivery of sessions
Ensure the pool area is safe, secure and presentable at all times
Arrange set up and clearing of equipment for swim classes and swim events
Responsible for pool monitoring equipment maintenance, storage and pool facility upkeep
Maintain necessary administrative log records
Assist with planning and running of Phoenix competitions and the UWC local service program
Coach/teach for 1 week at the start or end of the October, December and April school holidays
Coach/teach during the Chinese New Year school break when necessary
Coach/teach for 2 weeks at the start or end of the July/August school holiday.
Personal and Professional Requirements
Bachelors Degree
Minimum FINA Level 2 Coach or UKCC Level 2 certified (or International equivalent) – training may be available for strong candidates
Minimum 1 year swim coaching experience
Certified First Aider (preferred – training available)
Computer skills ('Team Manager' and 'Meet Manager' – training available)
Competent working with children of different ages
A team player with good interpersonal skills
An ability to communicate confidently and respectfully with International School parents and staff. This will include regular e-mail communication and an understanding of the International School environment.
Evidence of previous squad planning would be beneficial
Level of Commitment

Part Time

Position Type

Assistant Coach

Level of Team

Club
Location: 9920 Hwy 90 Alt, Sugar Land, 德克萨斯州美国
with Blue Legend Swimming Academy
Job Description:
Starting from 2014, Blue Legend has more than 500 students in both Sugarland and Katy area. Our proven swim curriculum has been carefully developed to increase a student's swim technical skills, encourage a love of learning, and promote self-esteem. Now Blue Legend Swimming Academy is seeking a part-time/full-time swim coach to work with our group swim program consisting of our Basic, Elementary, Intermediate, Advanced and Pro program. This entails working with age group swimmers ages 4-15 years with a wide range of abilities. The assistant swim coach will oversee training activities of assigned group. Instruct groups lessons focusing on technique, endurance, stroke development and drills, etc.
Lessons are from 5:15 pm-8:15 pm on Tue, Wed, Fri and 5:30 pm-8:30 pm on Mon, Thurs, Sat. On Sat and Sun, the group lessons are from 14:00 pm-19:00 pm. Right now, the locations are at Dynamic Fitness of Dairy Ashford Rd and Alt 90 on Tue, Wed, Fri, Sun on Sugarland; Dynamic Fitness at I-10 and Baker Cypress Exit on Mon, Thurs and Sat on Katy. We practice all year except some of the FBISD and Katy ISD holidays.
Job Responsibilities:
The position is responsible for the safety of the participant in the class. Work hours as scheduled which includes beginning and ending class on time; remaining after class to answer parent questions as needed, and clean up equipments and supplies. Instructs and evaluate students participating in swim lessons. Coach students in groups, demonstrating proper swimming technique and observing students detect and correct mistakes. Submits completed report cards, skill sheets on time. Attends mandatory meetings and training sessions as scheduled. All new team members must complete the training, regardless of experience. Act immediately and appropriately to secure safety of patrons in the event of emergency. Presents professional appearance and attitude at all times, and maintains a high stars of customer emergency. All other duties as assigned and appropriate.
Job Requirement:
Consistent attendance and performance is a must
Energetic with main focus on stroke development.
Experience working with children in large groups
Must have a background of 3 or 4 years of competitive swimming or minimum of one year experience as a swim instructor
High school diploma, GED or equivalent required
Certification of CPR, AED and First Aid (Preferred)
ASCA Level 3 Certification or higher (Preferred)
Level of Commitment

Full Time

Position Type

Aquatics Staff

Level of Team

Other
Location: 1805 Main Street, Klamath Falls, OR, USA
with City of Klamath Falls Ella Redkey Municipal Pool
************THIS POSITION HAS BEEN FILLED************
Under direction of the Parks Manager, the Ella Redkey Municipal Pool Supervisor is responsible for performing various management responsibilities in relation to the day-to-day operation of the City Pool. Salary of $4,211 – $5,896 per month DOE plus an excellent benefits package.  The Ella Redkey Municipal Pool is a geothermal heated outdoor pool.  This unique pool is connected to the City's geothermal heating system keeping the pool temperature up to 85 degrees.  Some of the many programs offered by the Ella Redkey Pool include lap, open, masters and family swims, swim lessons, water aerobics, private parties, special events, fundraisers, and much more!
Job offers for this position are contingent on passing a pre-employment drug screen and background investigation.
JOB REQUIREMENTS:
Education and/or Experience:
BS/BA in Recreation or Physical Education and two years of experience with demonstrated skill in organizing and implementing leisure activities. Equivalent work experience may be substituted for education.  Two years relevant experience must include: 1) experience in developing aquatic and recreational programs, 2) customer service training and experience; 3) training in management and supervisory techniques; and, 4) experience providing swim lessons, water aerobics lessons, master's swim lessons, or water polo instruction.
License/Certifications:
Lifeguard Instructor (LGI) Certification, Aquatic Facility Operator (AFO) or Certified Pool Operator (CPO) Certification, Group Exercise or Aquatic Exercise Instructor Certification, American Swim Coaches Association (ASCA) Level 2 Coaching Certification, Water Safety Instructor (WSI) or other National Lesson Instruction Certification, National Aquatic Management School Certification or course completion, CPR and First Aid Certification. Bloodborne Pathogens Training.
Level of Commitment

Full Time

Position Type

Other

Level of Team

Club
Location: Santa Clarita, CA, USA
with Canyons Aquatic Club
Canyons Aquatic Club has potential for multiple openings on our coaching staff.
We are seeking both a Head Age Group Coach and other full/part-time coaches. This is a great opportunity to work with a USA Swimming Silver Medal Team in the beautiful Santa Clarita Valley, just 45 minutes north of central Los Angeles. Canyons has a 40-year history of excellence in the highly competitive Southern California LSC, and we are aiming to take an already successful club to new heights with our swimmers and dedicated parent-member base.
Candidates should have lots of energy and passion for the sport to better motivate their swimmers, but also have excellent organizational and discipline skills, have deep knowledge about the technical aspects of the sport. Candidate will also be called upon to support the club in other areas, such as meets directing and fund-raising efforts.
Canyons is also looking for candidates that will support and carry out the mission of Canyons Aquatic Club and the philosophy of growth put forward by the Head Coach of a program that fosters the long term development of the swimmer as a person first and as an athlete that has limitless potential when equipped with the right tools and support throughout the development processes.
Experience expectations:
• Up-to-date USA Swimming credentials.
• Spotless background and reference check.
• A Head Age Group Coach will be set apart by having demonstrated the ability to lead and encourage other staff members effectively, to set up training plans for all ages and abilities that systematically teach both the foundational and technical aspects of the sport along with a strong clerical and organizational mindset.
• A Coach joining as a full or part time will have multiple years of experience and a hunger to grow.
• Ability to create strong connections with swimmers and parents alike and help swimmers achieve their goals.
• Ability to work with different ages and ability levels.
• Experience/knowledge of technology (video, social media, etc).
Job expectations:
• Work with the Head Coach and staff to design, organize, and implement a training and performance culture that leads to long-term performance success.
• Lead diverse groups of swimmers towards their path of excellence
• Fully participate in the dry side of meet logistics and planning.
• Have the ability to build a schedule that adjusts to shifting and demanding expectations.
• Attend weekly staff meetings.
• Maintain a positive and encouraging environment.
• Assist with other training groups as needed.
Level of Commitment

Full Time

Position Type

Other

Level of Team

Other
Location: San Francisco, CA, USA
with FINIS
At FINIS our vision is to improve the quality of swimming. We express that vision through innovative product development, convenient customer service, and ultimately the sharing our unique technical knowledge with everyone. Passionate about swimming and the water, our entire staff is a dedicated and highly ambitious TEAM focused on achieving our vision.
The FINIS workplace is a dynamic and fast-paced environment that thrives on innovation, leadership and success. Whether you are an experienced professional or a recent high school graduate, you can contribute to FINIS's vision. To learn more about FINIS and possible employment opportunities, please send inquires and resumes to [email protected]
The FINIS Sales & Marketing Team is seeking the best and brightest to take our brand to the next level. This is a Team Sales Representative role, responsible for prospecting and developing new business.
Successful candidates for this position will beresults-driven, with a genuine passion for competitive swimming. This role will be responsible for selling and promoting FINIS to teams, coaches,and retail accounts. At FINIS, we love two things: swimming and innovation. The draw to the water is in our blood, and our passion to educate drives us to constantly challenge the status quo-we are looking for individuals that are ready to do the same!
Sound like you? Great. Tell us your story! We look forward to hearing more about you and why you would be a good fit to our team
Click to download full job description
All qualified applicants will be considered for employment without regard to race, color, sex (including gender, pregnancy, childbirth, or medical conditions related to pregnancy or childbirth), religion, marital or registered domestic partner status, age, national origin or ancestry, physical or mental disability, medical condition, sexual orientation, veteran status, or any other legally protected characteristic.
Level of Commitment

Full Time

Position Type

Other

Level of Team

Other
Location: San Francisco, CA, USA
with FINIS
At FINIS our vision is to improve the quality of swimming. We express that vision through innovative product development, convenient customer service, and ultimately the sharing our unique technical knowledge with everyone. Passionate about swimming and the water, our entire staff is a dedicated and highly ambitious TEAM focused on achieving our vision.
The FINIS workplace is a dynamic and fast-paced environment that thrives on innovation, leadership and success. Whether you are an experienced professional or a recent high school graduate, you can contribute to FINIS's vision. To learn more about FINIS and possible employment opportunities, please send inquires and resumes to [email protected]
FINIS, Inc. is on the search for a Graphic Designer (who has a love for the print space) to join our mighty and energetic Sales and Marketing Team! This individual would play a critical role as a member of the Creative Team to help amplify the visual and vocal identity of the FINIS brand.
This position will be based at our headquarters, in Livermore, California, and will report to the Creative Manager. He or she will primarily be responsible for delivering strong print design visuals, as well as taking a leadership role in designing trade show and in-store merchandise spaces. This will include working closely with Sales and Marketing to execute concepts that will optimize the FINIS brand presence and achieve the FINIS mission, vision and values around the world.
As a key contributor to the Creative Team, this member needs a strong understanding on the fundamentals of visual design disciplines and principles. The way we tell our company story is very important to us, so this person must demonstrate a high regard for the FINIS brand and have the ability to push the limits of design by endlessly innovating.
Sound like you? Great. Tell us your story! We are excited to learn why you would be a good fit with our team.
Level of Commitment

Full Time

Position Type

Other

Level of Team

Club, Recreational
Location: Gloucester, MA, USA
with YMCA of the North Shore
This is an exciting new opportunity that will play a key role in an existing Y location that within 18-20 months will transition into an entirely new facility in the same community with expanded aquatics capabilities and opportunities.
The Lead Site Coach/Aquatics Director is responsible for acting in a leadership capacity for all coaches, lifeguards and aquatics instructors at this particular site. This role is charged with development, implementation and management of all Competitive Aquatics and Aquatics programs. Key to this role is attracting, retaining and transitioning swimmers of all ages and abilities through the levels of our learn to swim programs, water activities and further achieving a successful conversion rate of swimmers to the Competitive Aquatics programs. Through dynamic planning, high quality engagement, and direct service, our competitive swim coach and aquatics directors provide guidance on the technical and physical skills of swimming, help coordinate and participate in swim meets (both home and away), create an environment of fun, relationship building, belonging and personal achievement while fostering a lifelong love of swimming and the water. This role also carries with it the responsibility of managing staff and handling the administrative duties as they relate to the programs and operations of this aquatics department.
ESSENTIAL FUNCTIONS
Competitive Aquatics
Act as the Lead Site coach as part of a larger swim team organization.

Develop and Lead structured swim team practices focusing on stroke technique, competition preparedness, relationship building and collaboration based on the YNS competitive swim schedule.

Maintain consistent, clear, effective and positive communication with youth and parents on the team. Personally build relationships with YMCA members through daily interactions.

Attend, on an as needed basis, all swim team events such as meets, meetings, trainings, social events, etc.;

Keep detailed and accurate records as needed including attendance, work-outs and swimmer progression. Lead site specific events and assist in association wide swim team social event planning, as necessary.

Work collaboratively with the local Y aquatics staff to support member engagement. Be proactive and flexible in addressing community needs regarding competitive aquatics.

Keep up to date on all competitive aquatics trends and events in an effort to maintain

Assist in creating thorough, age-appropriate workouts focusing on technique, endurance, stroke development, drills, etc.

Assist in coordinating and executing swim team competitions and meet registrations. Record times at swim meets.

Act as an engaged and participative member of the entire site and its operations
Aquatics
Actively participate in the in-water instruction programs provided at this site

Direct and supervise YMCA Aquatics and Competitive Aquatics programs and activities

Establish and innovate new programs and scheduling to increase and improve the quality of programming and quantity of registrants in aquatics programming.

Recruit, hire, train, develop and manage staff for all components of the Aquatics operations

Monitor daily operation of site pool(s) in accordance with local, state and YMCA health and safety guidelines and regulations

Manages and maintains all pool operation and programming equipment

Adhere to all safety guidelines for pool and aquatics operations according to local, state, YMCA and Risk Management guidelines and regulations.

Provide excellent member service and engagement

Participate in the development of marketing efforts for aquatics programming

Participate in annual YMCA fund raising and special events, as needed

Manages all reporting relative to programming, activities and pool operation management
QUALIFICATIONS: Applicants should be local to the Gloucester, MA area 
Bachelor's degree or commensurate work experience

At least 21 years of age with 3-5 years experience as a Competitive Swim Coach, preferably in a leadership capacity

Current USA Swimming and or YMCA Swim coach credentials

Must be able to demonstrate proficiency of swim skills in accordance with YMCA standards and have a strong foundation in stroke mechanics and be able to communicate effectively with swimmers and their parents

Enthusiastic presence with good communication skill

Certifications: CPO, CPR, AED, Basic First Aid certification or willingness to obtain
The YMCA is committed to a policy of nondiscrimination and equal opportunity for all employees and qualified applicants without regard to race, color, religious creed, protected genetic information, national origin, ancestry, sex, age, disability, veteran's status, or sexual orientation.
Level of Commitment

Part Time

Position Type

Assistant Coach

Level of Team

Club
Location: Sauk City, WI, USA
with MoHo Swimming
Assistant Coach position available with the MoHo Gators Swim Team in the Madison, Wisconsin area.
The MoHo Gators are seeking an energetic and enthusiastic coach to help with or lead our 12 and under swimmers.
Qualifications:
Must be current or become current on all USA Swimming Coach Membership requirements
Must have either coaching or competitive swimming experience
​Responsibilities and Tasks:
Coach weekday and weekend practices
Develop practices or execute those of head coach (depending on experience)
Support the head coach in the implementation of team direction and goals
Attend team functions
Coach at meets
Effectively communicate with swimmers, parents, and other staff members
Exhibit passion and enthusiasm for competitive swimming and working with children
Opportunities to teach private lessons and work with our summer programs as well
Compensation and Benefits:
Compensation commensurate with experience
Level of Commitment

Full Time

Position Type

Other

Level of Team

Club
Location: 210 Albert Gallatin Ave, Gallatin, TN 37066
with Excel Aquatics
EXCEL AQUATICS TEAM OVER VIEW:
Excel Aquatics has 4 year-round competitive training sites located in the greater Nashville area with over 500 athletes. Excel has been a Silver and Bronze Medal Club. Excel is currently 1st in USA Swimming's Virtual Club Ranking for the Southeastern LSC.
GENERAL DEFINITION OF WORK:
The Gallatin Site Coordinator position is a full-time salary position with Excel Aquatics Inc. Salary will be based on the experience level of each candidate. There are currently 3 Gallatin Assistant coaches. On average, the Gallatin site will have 40-50 swimmers during the summer, and 70-90 during the winter.
Gallatin Civic Center Address: 210 Albert Gallatin Ave, Gallatin, TN 37066
8 lane 25 yard indoor pool. We have access to 6 lanes.
ESSENTIAL JOB FUNCTIONS:
Coaching and writing season plans for the Senior and Varsity Groups, ages 13-18 years old
Help plan, develop and implement programs to attract swimmers into the program from the surrounding community.
Taking a leadership role in managing and educating the sites assistant coaches
Help maintain team records and prepare monthly reports regarding practice attendance, etc.
Help organize and set-up all meets
EDUCATION AND EXPERIENCE:
3-5 years of competitive coaching experience or any combination of education, training, and experience providing the knowledge, skills, and abilities necessary to perform essential job functions.
Knowledge of Team Unify and Meet Manager is preferred but not required.
SPECIAL REQUIREMENTS: First Aid, CPR, Safety Training for Swim Coaches, and Background Check.
COMPENSATION:
Starting at $30,000 and increasing based on experience.
Level of Commitment

Part Time

Position Type

Aquatics Staff

Level of Team

Other
Location: 100 Devon Drive, Exton, PA, USA
with Lionville YMCA
The Lionville YMCA is looking to hire for our fantastic pool staff! We are looking for enthusiastic, energetic and mature individuals to serve as lifeguards. The safety of our members is always foremost in our minds. Help us keep them safe and sound! We are hiring for our 9:00 – 12:00 and 12:00-3:00 shifts year-round. We are also hiring summer lifeguards. These positions are part-time.
Requirements:
•    Must have current Ellis certification
•    Ellis Lifeguard Training is available through our branch
•    Up to 4 hours of additional training required EVERY month
•    Must be 15 years old or older
•    Must be reliable and a team player
Benefits:
•    Fun, fast-paced work environment
•    Making a difference in someone's life every day!
•    Free individual membership with completion of New Employee Orientation and active employment. Great retirement benefits and other discounts
Level of Commitment

Full Time

Position Type

Head Coach

Level of Team

College (Division I)
Location: Evanston, IL, USA
with Northwestern University
******THIS POSITION HAS BEEN FILLED***********
The Director of Men's and Women's Swimming and Diving is responsible for managing both the Men's and Women's Swimming and Diving programs. This position oversees all Swimming and Diving Coaches working with both programs, and is responsible for overseeing coaching, recruiting, scheduling, student-athlete development, travel coordination, fundraising, budget formulation, analysis and management, equipment purchases, public and community relations, parental relations, and health and safety of student athletes.
Full-time appointment, renewable on a contract basis.
RESPONSIBILITIES INCLUDE, BUT ARE NOT LIMITED TO:
 Coaching 
Full responsibility for coaching and training the Men's and Women's Swimming and Diving Teams; for developing and conducting all in-season and out-of-season practice plans throughout the year as deemed necessary and appropriate.
Has responsibility for psychological preparation of teams in both pre and post-competition and for developing motivational approach to practices and competitions.
Organize teaching procedures for appropriate staff. Conduct team meetings and assignments as necessary. Engage and utilize support staff when necessary and applicable.
Continue to develop comprehensive knowledge in decision-making, delegating authority, and in setting objectives.
Recruiting 
Responsible for the national recruitment of top student-athletes for the Northwestern's Men's and Women's Swimming and Diving Team, commensurate with the admissions qualifications of Northwestern University who are capable of successfully competing at the NCAA level.
Work closely with the designated Sport Administrator to develop recruiting strategies and a pool of admissible prospects.
Maintain good relations with parents of current and prospective student-athletes.
Manage and direct extensive on-campus recruiting program.
Administrative 
Develop a nationally recognized competition schedule in conjunction with the designated Sport Administrator.
Responsible for search and selection of qualified assistant coaching staff with approval of designated Sport Administrator and actively support and comply with the University's Affirmative Action program.
Direct and manage staff of assistant coaches. Delegate and prioritize administrative responsibilities to assistants.
Conduct annual staff evaluations.
Responsible for presenting to the Deputy Director of Athletics and Associate Athletic Director for Business a projected annual budget in the areas of responsibility for approval. Accountable for expense control compliance and administration of annual budget.  Implement Department operational procedures and policies.
Responsible for supervising team and individual travel arrangements for recruiting visits, competitions and off-campus practice, and for the conduct and appearance of the team when traveling as representatives of Northwestern University.
Demonstrate interest in academic progress of student-athletes. Work closely with Academic Services in solving and preventing academic problems.
Cooperate with team physicians and the Sports Medicine staff regarding health care and decisions of practice and participation of student-athletes.
Alumni Relations, Public Relations, and Development 
Responsible for the maintenance of sound alumni relations. In cooperation with the appropriate Associate Director, also responsible for promoting and participating in various alumni events.
Assist Athletic Development staff in fundraising efforts on behalf of the swimming program and department as requested.
Responsible for maintaining good public relations with the public news media, and working with Athletic Communications department in promoting Northwestern University. Maintain amicable public relations with faculty, staff, students and media of the University, friends, alumni support groups and secondary school/club coaches.
Other 
Report to the designated Sport Administrator and faithfully and diligently carry out other Department-related duties as assigned.
Demonstrate a cooperative attitude towards all sports in the Intercollegiate and Recreational programs.
Responsible for adhering to all Department and University policies and procedures, as well as the rules, regulations, bylaws and interpretations of the Big Ten Conference and the NCAA.
Other duties as assigned.
As per Northwestern University policy, this position requires a criminal background check.  Successful applicants will need to submit to a criminal background check prior to employment.
Northwestern University is an Equal Opportunity, Affirmative Action Employer of all protected classes, including veterans and individuals with disabilities. Women, racial and ethnic minorities, individuals with disabilities, and veterans are encouraged to apply. Hiring is contingent upon eligibility to work in the United States.
Level of Commitment

Full Time

Position Type

Head Coach

Level of Team

Club
Location: 5500 South Grant Street, Hinsdale, IL, USA
with Hinsdale Swim Club
Hinsdale Swim Club (HSC) is seeking a dynamic, motivated, enthusiastic, and highly-skilled Head Coach for our year-round competitive swim program. Our club is located in Hinsdale, Illinois, a western suburb of Chicago. HSC is a long-established club, having been founded in 1959.
Coaching Responsibilities
Lead coach responsibility for 1 to 2 practice groups

Ensure that all swimmers in all practice groups are receiving the appropriate, consistent stroke development and physical conditioning

Establish an environment that fosters positive encouragement and constructive feedback

Work closely with lead coaches in areas such as:

determining initial group placement and movement between groups

creating appropriate training programs and periodically checking that progress toward goals is being made

making sure there is alignment between all coaches on technical instruction (e.g., how to properly perform flip turns)

Select appropriate schedule of seasonal competitions

Demonstrate willingness to communicate with parents to help swimmers achieve their goals
 Administrative Responsibilities
Oversee all aspects of daily club operation in support of swimmers, membership, team mission and values

Strong leadership, organizational and computer skills a must

Demonstrate a positive, professional, cooperative, responsive and respectful communication style with swimmers, parents, community members, staff, and Board

Effectively supervise, mentor and delegate responsibilities for a staff of at least 5 coaches

Participate in monthly Board meetings; Head Coach is an ex-officio, non-voting member of the Board

Complete various administrative functions such as:

pool scheduling

communication with other teams regarding meet participation and entries

maintain and update website information regarding practice schedules, meet entries, news, etc.

maintain accurate records of individual and relay performances, meet participation, practice attendance, etc.

Maintain professional standard of safety, appearance and readiness
 Minimum Qualifications:
Strong track record as an outstanding technical swim coach with demonstrated leadership and communication skills

Advanced experience coaching various ages and skill levels in a competitive environment

Current member in good standing of USA Swimming

ASCA level 4 or 5 preferred, will consider strong candidates with ASCA level 3

Must be CPR/AED certified and maintain current coaching certification

Experienced with Team Unify and HY-TEK as well as Word, Excel and Power Point