Ireland's best swimmer Sycerika McMahon has committed to swim for Texas A&M, she announced on her Twitter feed on Sunday.
"I think it's time to announce why i'm [sic] saying my goodbyes…i [sic[ have accepted a scholarship to Texas A&M for [university] next year, the Tweet read.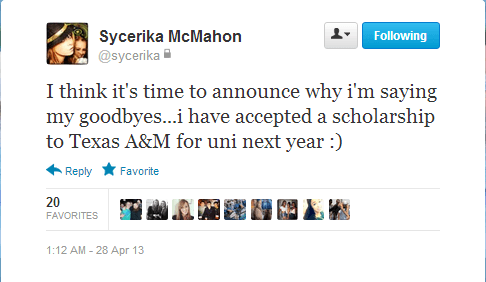 Despite the Olympic successes of Cammile Adams and Breeja Larson, the A&M women haven't really been able to capitalize on the ensuing recruiting class, at least until this addition.
The recently-turned 18 McMahon has qualified for the World Championships already and is widely recognized as the top of the active Irish swimming scene. She had a great battle with Katinka Hosszu at Irish Long Course Nationals last week, though clearly unrested, and walked away with 6 Irish National titles to her credit.
She's got a lot of versatility, but her best races are the breaststrokes (1:08.37 in the 100 and 2:34.3 in the 200 in long course) and the IM's (2:14.76 in the 200 and 4:48.38 in the 400 in long course).
In the best two of those races, she'll add to strengths of the A&M team. The 200 IM result converts to a 1:58.52 in yards, and the 100 breaststroke converts to 59.79, and given her successes thus far in short course meters in her career, expect those conversions to hold true.
A&M had the 15th, 16th, and 17th-place finishers at NCAA's last year in the 200 IM (though expectations were for them to do better than that), and also trained NCAA Champion in the 100 breaststroke Breeja Larson.
McMahon is the 2011 European Junior Champion in the 400 free and the 50 breaststroke, which demonstrates the huge range of events she is good in. She goes 4:13.85 in the 500 free in long course, 2:00.28 in the 200, and when she was just barely 16 years old she was going best times of 1:02.0 in the 100 fly in long course.
She could be another piece for the A&M sprint relays as well, with a 56.74 lifetime best to win the Irish National Championship last week – a time swum despite not being on a taper and having a huge event schedule.
The A&M women finished 4th at the 2013 NCAA Championships (just two points behind Tennessee) and still had a very young squad that won't graduate many points. They graduate 41 total points from individual events, and just 2 relay swims.