Fitter and Faster recently announced their "Trials for Tokyo" Comprehensive Racing Camp that will take place in Omaha during the US Trials at Brownell Talbot School. This is an 8 day swim camp that will take place from June 21-28.
Elite athletes (including many Fitter and Faster Clinicians) will arrive in Omaha with the goal of qualifying for the 2020 Games in Tokyo. If you will be in Omaha to watch the most important and most exciting swim meet in the United States – and have aspirations of your own to achieve in the sport – this is a can't miss camp.
Click Here For Details & Registration »
WIN TWO PRIME SEATS AT THE OMAHA TRIALS!
Sign up for this camp by November 1, 2019 and be entered to win two seats directly behind the blocks at the US Trials. Each session you sign up for gives you one entry into the drawing! So, sign up for all eight sessions and you will have 8 chances to win!
This camp will take place over all 8 days of the US Trials between prelims and finals. The curriculum each day will be:
Sunday, June 21: Butterfly
Monday, June 22: Breaststroke
Tuesday, June 23: Backstroke
Wednesday, June 24: Freestyle
Thursday, June 25: Starts & Backstroke Starts
Friday, June 26: Flip Turns and Open Turns
Saturday, June 27: Underwater Dolphin Kicking and Breaststroke Pullouts
Sunday, June 28: Relay Exchanges & Finishes
Sign up for individual sessions or SAVE with 4 session and all 8 day packages!
Watch fast swimming AND get faster! Sign up today!
About the Fitter and Faster Swim Tour 
The Fitter & Faster Swim Tour produces swim clinics featuring elite stars of the sport and the most innovative teaching platforms. FFT Swim Clinics can be customized to meet age and skill level of every team and community. Call 786-837-6880 or visit http://www.fitterandfaster.com/ to learn more.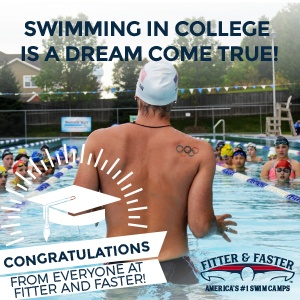 FFT SOCIAL
Instagram – @fitterandfasterswimtour
Facebook – @fitterandfastertour
Twitter – @fitterandfaster
FFT is a SwimSwam partner.