Today's FINIS Set of the Week comes from CJ Fiala.  Fiala is the Sports Marketing Lead for FINIS and a former elite-level swimmer.  A two-time Olympic Trials qualifier, his best event was the 50-meter freestyle.  A graduate of Virginia Tech, Fiala spent time as a member of USA Swimming's Athlete Executive Committee and was an inaugural member of their Safe Sport Committee.
In today's swimming world, many swimmers are forced to taper down twice during a short period of time.  Whether it's LSC Championships to Junior Nationals or Sectionals, conferences to NCAA Championships, or World Champ Trials to the World Championships – our swimmers are being asked to perform at the highest level more than the status quo; "one time at the end of the year".
The time in between those two meets is essential and foundational to success at the tail end of the season.  One school of thought says swimmer's need to "go back up" a little bit and fatigue a little more than usual, in order to build a base to taper back down from.  Today's set, or progression rather will help to simulate a mid-season set without near as much volume.
Opening Up The Lungs:
8 x 25 Underwater on :45
Feel free to throw in some fins, mix up the kick, add some resistance, etc.
4 x 75 Descending Strokes & Breaths Freestyle
#1 – 11 strokes per lap, 5 breaths per lap
#2 – 10 strokes per lap, 4 breaths per lap
#3 – 9 strokes per lap, 3 breaths per lap
#4 – 8 strokes per lap, 2 breaths per lap
Re-Finding That Speed:
4 x 125 at 85% Effort
100 Stroke
[Turn and hold position underwater on wall for 5 seconds]
25 All-Out Fast at 100% effort
6 x 50 Speed Play
25 No Breath
25 Ascending Speed
4 MINUTE BREAK
1 x All-Out Race Off the Blocks for Time
For more awesome workouts, visit FINIS' Training Tips & Workouts page today!
About FINIS, Inc.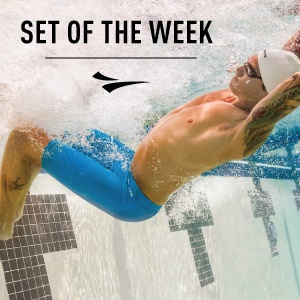 John Mix and Olympic Gold Medal swimmer Pablo Morales founded FINIS in Northern California in 1993 with a mission to simplify swimming for athletes, coaches, beginners and lifelong swimmers around the world. Today, FINIS fulfills that mission through innovation, high quality products and a commitment to education. FINIS products are currently available in over 80 countries. With a focus on innovation and the fine details of swimming, FINIS will continue to develop products that help more people enjoy the water.
Press Release courtesy of FINIS, a SwimSwam partner.