Today's FINIS Set of the Week comes from Keith Jizmejian. Jizmejian is the Regional Business Development Manager for FINIS and manages the western half of the United States.  A former swimmer and water polo player at California-Baptist University, Jizmejian is the avid water enthusiast.  He is currently based in Southern California and when he's not selling swim gear, he's either getting in a midday swim or surfing the waves.
There are a ton of different ways swimmers are looking to get better nowadays.  Whether it's experimenting with a new type of training or trying out a new product – swimmers are curious creatures.  One age old product has been tooled time and time again, but no brand has quite as much success as FINIS – we are talking about the hand paddles.
From the Agility paddles, to the Freestyler paddles and now to the Iso paddles – FINIS has hit the full spectrum on hand paddles.  Their latest addition, the Iso paddle (released earlier this week), is unique in that it targets specifically the interior or exterior muscle groups of the upper body, based on the hand their worn on.  That's right, you can wear each paddle on either hand and get separate benefits.
Check out this little set below to work on training specific muscle groups.
Working the Inside Muscles:
4 x 25 Front Scull on :30
4 x 50 25 Breaststroke 25 Butterfly on :50
4 x 75 80% Effort with Iso Paddles (wear with paddle part facing inward)
ODDS: Breaststroke
EVENS: Butterfly
Working the Outside Muscles:
4 x 25 Freestyle Fast Finish Drill on :30
Fast Finish Drill: Finish each stroke with speed and velocity, flicking the hand and wrist into the air at the end of each stroke
4 x 50 25 Freestyle 25 Backstroke on :50
4 x 75 80% Effort with Iso Paddles (wearing the paddle part facing outward)
ODDS: Freestyle
EVENS: Backstroke
For more awesome workouts, visit FINIS' Training Tips & Workouts page today!
About FINIS, Inc.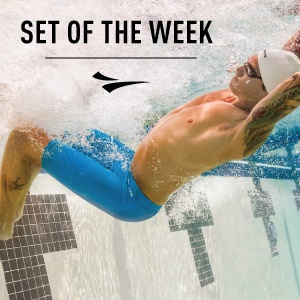 John Mix and Olympic Gold Medal swimmer Pablo Morales founded FINIS in Northern California in 1993 with a mission to simplify swimming for athletes, coaches, beginners and lifelong swimmers around the world. Today, FINIS fulfills that mission through innovation, high-quality products and a commitment to education. FINIS products are currently available in over 80 countries. With a focus on innovation and the fine details of swimming, FINIS will continue to develop products that help more people enjoy the water.
Press Release courtesy of FINIS, a SwimSwam partner.