2018 COMMONWEALTH GAMES
Thursday, April 5th – Tuesday, April 10th (swimming)
Optus Aquatic Centre, Gold Coast, Australia
Prelims at 10:30am local (8:30pm previous night EDT)
Finals at 7:30pm local (5:30am EDT)
As exciting as the 2018 Commonwealth Games are in their own right, the competition serves as a selection meet of sorts for British Swimming's European Championships squad. Per the qualification criteria, the first and second highest placed British swimmer in each individual Olympic event at the 2018 Commonwealth Games will be selected for the Euro C'ships, provided the athlete meets the minimum qualification times.
You can view the table of qualification times below, while reading the official Selection Criteria in its entirety here.
The 2018 European Championships are being hosted by Glasgow, Scotland and slated for August 12th – August 20th.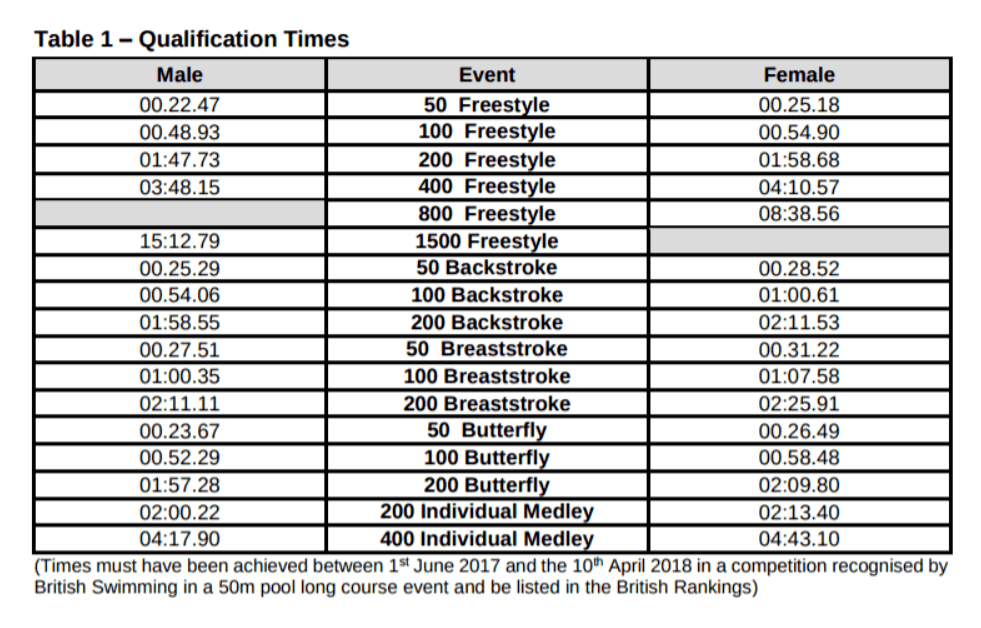 Qualifiers from Day 4
Women's 200m back qualifiers – None
Men's 100m free qualifiers – Duncan Scott (48.02)
Women's 200m IM qualifiers – Siobhan-Marie O'Connor (2:09.80), Aimee Willmott (2:12.07), Hannah Miley (2:13.29)
Men's 50m back qualifiers – None.
Women's 50m fly qualifiers – None
Qualifiers from Day 3
Men's 200m fly qualifiers – Duncan Scott (1:57.28)
Women's 50m free qualifiers – None
Men's 100m breast qualifiers – Adam Peaty (58.84), James Wilby (59.43), Ross Murdoch (59.89)
Women's 100m back qualifiers – Georgia Davies (1:00.17)
Women's 200m breast qualifiers – Molly Renshaw (2:23.28), Chloe Tutton (2:23.42)
Qualifiers from Day 2
Men's 50m fly qualifiers – None (*Ben Proud DQ'd)
Women's 50m breast qualifiers – Sarah Vasey (30.60)
Men's 200m free qualifiers – Duncan Scott (1:46.30), James Guy (1:46.40), Calum Jarvis (1:46.53)
Men's 400m IM qualifiers – Mark Szaranek (4:13.72)
Women's 100m fly qualifiers – Charlotte Atkinson (57.88), Alys Thomas (58.06)
Men's 100m back qualifiers – None
Qualifiers from Day 1
Women's 400m IM qualifiers – Aimee Willmott (4:34.90), Hannah Miley (4:35.16)
Men's 400m free qualifiers – James Guy (3:45.32), Daniel Jervis (3:48.08)
Women's 200m free qualifiers – Eleanor Faulkner (1:57.72), Holly Hibbott (1:58.55)
Men's 200m breast qualifiers – James Wilby (2:08.05), Ross Murdoch (2:08.32)