Disclaimer: BlueSeventy Swim of the Week is not meant to be a conclusive selection of the best overall swim of the week, but rather one Featured Swim to be explored in deeper detail. The BlueSeventy Swim is an opportunity to take a closer look at the context of one of the many fast swims this week, perhaps a swim that slipped through the cracks as others grabbed the headlines, or a race we didn't get to examine as closely in the flood of weekly meets.
Last week, we used our Blueseventy Swim of the Week to look at one non-record-breaking swim that factored in hugely to Georgia's overall team title. This week, let's do the same for Texas's win on the men's side.
While Texas doesn't necessarily have one swim that won them the meet (a 189.5-point margin of victory accounts for a few more swim than just one), there is one key swim that set the tone early and illustrated the rough blueprint for Texas's two-year run of NCAA titles.
That swim came in the 500 free, where freshman Townley Haas exploded for a 4:09.00 and an NCAA title in his first-ever individual NCAA appearance.
On its own merits, the swim is still outstanding. It ranks Haas 5th all-time and is the 2nd-best swim since the outlawing of full-body tech suits in 2009. It also accounted for a drop of more than 5 seconds from Haas's best high school time.
But in terms of team prospects, Haas's swim was hugely important because it maintained momentum for Texas by covering over the team's biggest NCAA misstep – a rough meet from Clark Smith. The defending NCAA 500 free champ struggled over the course of the week, missing both the A and B finals in an event he won just a year ago.
That kind of drop off from expected points has been more than enough to crush other NCAA contending teams in years past, but Texas avoided any sort of letdown thanks in large part to Haas's breakout meet.
Improving Strengths vs Covering Weaknesses
That also illustrates the blueprint Texas seems to be following for its twin NCAA titles from the past two seasons.
Texas isn't necessarily dominating in every event (though they've got a wide range of title contenders). But in the events where they are good, they're also deep.
The best example, of course, is the butterfly, where Texas famously stacked the 100 fly A final a year ago and continues to feature two of the best flyers in history. U.S. Open record-holder Joseph Schooling has been leading the way, but if he were to falter, the team would still have American record-holder Jack Conger to pick up the slack.
The same goes for Smith and Haas in the distance freestyles, and you could make a pretty good argument that John Murray, Brett Ringgold and Matt Ellis function the same way in the sprints. Will Licon's events were the only ones without a top-tier secondary support swimmer, but event there, freshman Ryan Harty developed awfully well and scored in the B finals of both IMs.
Texas isn't great in the breaststrokes (a relative weakness, of course, considering Licon won the 200) and lost ground to Cal in both backstrokes. But coach Eddie Reese has made his life a lot easier – and his team's influx of NCAA points more predictable – by improving areas of strength into weapons that are almost guaranteed to score big, even if one swimmer struggles individually.
That roster-building strategy also allows Texas's top swimmers to get better by training alongside swimmers who can challenge them on a daily basis. It can't be easy for a swimmer like Haas or Schooling to find consistent challengers, but with Smith and Conger swimming a lane over, there's no time for anyone in Austin to spend a practice resting on their laurels.
Aptly named to suggest 70% of the earth is covered in water, blueseventy is the world leader in the pool, triathlon and open water wetsuits and swimskins. Since 1993, we design, test, refine and craft products using superior materials and revolutionary details that equate to comfort, freedom from restriction and ultimately a competitive advantage in the water. blueseventy products have instilled confidence in beginners as well as carried world-class athletes to countless Olympic and World victories.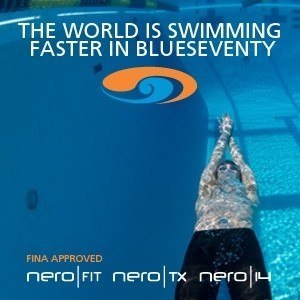 For the latest news and blogs from blueseventy visit www.blueseventy.com.
Twitter: @blueseventy 
Facebook: facebook.com/blueseventy
 Blueseventy is a SwimSwam partner.