Disclaimer: BlueSeventy Swim of the Week is not meant to be a conclusive selection of the best overall swim of the week, but rather one Featured Swim to be explored in deeper detail. The BlueSeventy Swim is an opportunity to take a closer look at the context of one of the many fast swims this week, perhaps a swim that slipped through the cracks as others grabbed the headlines, or a race we didn't get to examine as closely in the flood of weekly meets.
Despite a rise to world power inside the pool, China's Olympic prospects in the open water events were still in dire straights as of Spring 2016.
China had no open water swimmers qualified through the 2015 Word Championships, and faced a final swim-in at the June Olympic Qualifier in Portugal.
Since the marathon swimming 10K was added to the Olympic program in 2008, China had seen only two athletes contest the event at the Olympic level. Both came in 2008, when China was guaranteed one male and one female entrant based on its status as the host nation.
In 2012, Yanqiao Fang qualified on the women's side, but withdrew from the race in London and did not compete.
But last week, two Chinese marathoners came through in the clutch, not only qualifying for Rio through the final selection meet, but winning both the men's and women's events in Portugal.
On the women's side, it was Xin Xin who won a thriller, topping Great Britain's Keri-Anne Payne by just eight tenths of a second. In the men's event, Zu Lijun topped the field by just over two seconds to clinch his Olympic berth.
Though both will have their work cut out for them to challenge for medals in Rio, their qualification marks a steady rise in Chinese swimming – both inside the pool and out of it.
Aptly named to suggest 70% of the earth is covered in water, blueseventy is the world leader in the pool, triathlon and open water wetsuits and swimskins. Since 1993, we design, test, refine and craft products using superior materials and revolutionary details that equate to comfort, freedom from restriction and ultimately a competitive advantage in the water. blueseventy products have instilled confidence in beginners as well as carried world-class athletes to countless Olympic and World victories.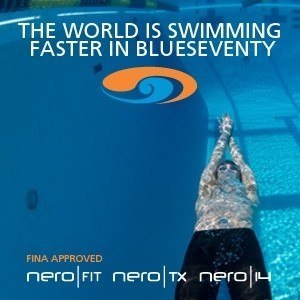 For the latest news and blogs from blueseventy visit www.blueseventy.com.
Twitter: @blueseventy 
Facebook: facebook.com/blueseventy
 Blueseventy is a SwimSwam partner.