Disclaimer: BlueSeventy Swim of the Week is not meant to be a conclusive selection of the best overall swim of the week, but rather one Featured Swim to be explored in deeper detail. The BlueSeventy Swim is an opportunity to take a closer look at the context of one of the many fast swims this week, perhaps a swim that slipped through the cracks as others grabbed the headlines, or a race we didn't get to examine as closely in the flood of weekly meets.
It's the era of comebacks.
Over the past two years or so, we've seen perhaps a dozen or more big-name swimmers making a comeback from some sort of absence or other in preparation for the 2016 U.S. Olympic Trials. Between Michael Phelps' returns from retirement and suspension, Ryan Lochte's return from major knee surgery, Katie Hoff's return from dropping off the face of the planet, Allison Schmitt's return from a disappointing World Champ Trials and an extended break and most recently, Kate Ziegler's comeback from a two-year absence, one comeback kid swimming fans might be forgetting is Amanda Kendall.
Last weekend, though, Kendall proved she's not a swimmer who should be forgotten.
The short version of Kendall's story is one of a supremely-talented sprint freestyler and butterflyer who flamed out with two different college programs over the course of 6 months. She disappeared from competition for over a year before returning last winter, in time for the bulk of the Arena Pro Swim Series.
Kendall has been impressive in her return, but had the biggest breakthrough of her career last weekend at the Bill Nixon Memorial Invite, putting up her best time drop since returning to the pool
Competing in the meet's 50 free shootout, Kendall blasted a 25.08, taking nearly a half-second off her previous lifetime-best. In fact, Kendall's previous personal-best time heading into the meet was 25.50 – she broke that mark twice, going 25.46 in prelims before hitting that 25.08 to win the shootout.
The only other event where Kendall has hit a lifetime-best post-comeback is the long course 50 fly, a race not offered very frequently for senior-level swimmers.
Though Kendall was perhaps a better butterflyer in her college days, the 50 free is starting to look like her best event at this stage in her career. According to USA Swimming's database, Kendall has put up her 13 fastest 50 free times ever in the year-and-a-half since her comeback began, crushing her old personal best of 25.84 multiple times.
The drop from this past weekend was gigantic in an event as short as the 50, and suddenly puts her just outside the top 25 in the world for the season. Currently, only one American ranks in the top 25 – Simone Manuel, who is exactly one tenth ahead of Kendall at 24.98 for the season.
The 50, or perhaps by extension the 100, free is starting to look more and more like Kendall's best shot at making the U.S. Olympic Team – she hasn't yet approached her lifetime-best in the 100 free, but was 55.72 at the Charlotte Pro Swim Series meet last month. The top 6 finishers in the 100 free will make the Olympic team to fill out the 4×100 free relay.
Kendall is now representing the Mason Makos, the team for which she grew up competing, and by returning to her roots, seems to be finding a whole new lease on life.
If she can string together more improvements like the big one last weekend, that new life could turn bigger than anyone imagined – it could turn out to be Olympic-sized.
Aptly named to suggest 70% of the earth is covered in water, blueseventy is the world leader in the pool, triathlon and open water wetsuits and swimskins. Since 1993, we design, test, refine and craft products using superior materials and revolutionary details that equate to comfort, freedom from restriction and ultimately a competitive advantage in the water. blueseventy products have instilled confidence in beginners as well as carried world-class athletes to countless Olympic and World victories.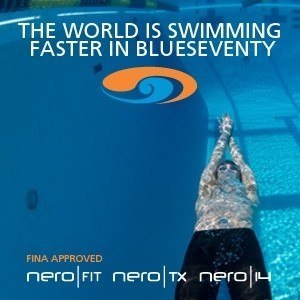 For the latest news and blogs from blueseventy visit www.blueseventy.com.
Twitter: @blueseventy 
Facebook: facebook.com/blueseventy
 Blueseventy is a SwimSwam partner.