This blog is courtesy of Team Towels. 
 As a
swim coach
, one of your key goals should be to help each swimmer fulfill his or her potential. While promoting improved performance is one way to do this, cultivating a sense of loyalty is also key. Believe it or not, team towels are critical in this process, and can make an important difference. Read on to learn more about custom swim team towels, and how they can impact swimmers' perspectives.
Being part of a swim team means more than sharing the same pool and being present during workouts. Through spending an incalculable amount of time with each others, swimmers are sure to have profound experiences together.
Each time they pick up their custom swim team towels, swimmers will remember these times. Whether they are memories of inside jokes, victories over other swim teams, or other important moments, these are invaluable. Custom swim team towels will help swimmers to retain these memories, and use them positively.
Creating a group of people that respects, cares for and strengthens other team members is critical for positive growth. Custom swim team towels can play a crucial role in developing and reinforcing this sense of unity.
Regardless of the venue, having matching custom swim team towels creates a strong sense of community. When spending time with each other, teammates will have a sense of pride in sharing towels.
Especially for young people, having an identity is imperative. Whether it pertains to music, the outdoors, or physical activity, young people should have the tools to easily express these interests.
Custom swim team towels give swimmers an easy way to express this identity as they see fit. For example, demonstrating pride in one's swim team at a family event could be a priority. These team towels allow swimmers to accomplish this with ease.
Not all generations have the same values. However, all generations support the idea that effort should be rewarded.
There are few pursuits that demonstrate the strong commitment involved in competing on a high school sports team. So, custom swim team towels will convey these efforts. By showing friends, family and employers that you have made these significant efforts, you will demonstrate your capacity to compete. This also signifies a dedicated work ethic, outside of employment situations.
If you excel at something, then there is always somebody looking up to you. Having a custom swim team towel will help your swimmers to inspire others in two notable ways.
First, it will inspire younger swimmers to strive toward the lofty goals of becoming a senior member. Having the same garment as the people that they look up to will help them to achieve these goals.
Secondly, it will also inspire others to become active. For example, having a custom swim team towel at a local community pool will show others that it's possible to pursue these goals.
Swim team towels can go a long way in inspiring interest and dedication in younger people.
Order Custom Woven Towels Today!
To motivate your team for success, purchase custom woven towels for them. They are a creative way for your team members to express themselves, and a practical choice. Check out our team towel ordering guide, and contact us if you have any questions!
Boost your team's spirit with a custom woven towel from Team Towels! We will weave your school logo, team mascot, or any other text or image right into the swim towel. Our towels are the highest qualoity, ensuring your promotional gear will last for seasons to come.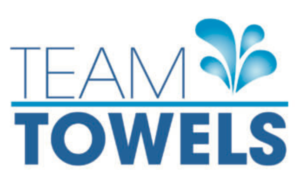 Team Towels is a SwimSwam partner.