Sue Novitsky and Elliott McGill lead the University of Illinois Swim Camps along with a staff of highly qualified and enthusiastic coaches, counselors and collegiate swimmers. Sue Novitsky's coaching staff will combine elite level technical development and age appropriate training to improve and challenge each camper.
All four strokes will be covered with the ultimate goal being the fundamental, longer term development of the swimmer. Outside of the pool campers will be introduced to a comprehensive and safe dryland program, learn elite level racing strategies, mental preparation and toughness, and wellness tips.
This camp will feature technique instruction which will provide swimmers with the tools for success that can be applied to their training and development throughout their careers. Outside of the pool, we have some great talks lined up covering a range of topics including racing strategies, being mentally tough, health and wellness tips and special guests who will share their motivational stories.
Video Analysis: Swimmers can order an underwater stroke video for all 4 strokes, turns and starts. Each DVD will come with a typed report and summary from the University of Illinois coaching staff. The combo of the DVD and report will be great items to take home and discuss with each camper's home coach.
Register for Fighting Illini Swim Camps Here!
Camp Directors
SUE NOVITSKY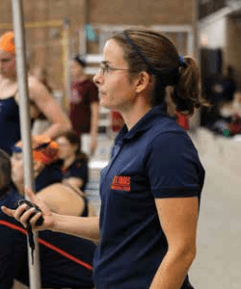 Head Swimming and Diving Coach
Sue Novitsky has led the Illini for seventeen seasons as the head coach of the University of Illinois swimming and diving program. Novitsky joined the University of Illinois swimming and diving staff as a volunteer assistant coach in 1994, and has completed her 23rd year as a part of the Illini program. During her tenure as head coach, the team has broken 111 school records and 15 athletes have qualified for the NCAA Championships. Those athletes have earned two All-American and five honorable-mention All-American honors. She has also overseen the training of 6 U.S. Olympic Trial qualifiers, Jessica Aveyard, a U.S. National Team member and World Championship Semi Finalist, as well as two-time Turkish Olympian Ilkay Dikmen.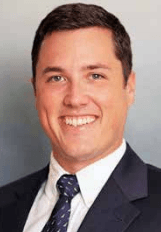 ELLIOTT MCGILL
Assistant Swimming and Diving Coach
Elliott McGill has just completed his first year as assistant coach with the University of Illinois. McGill worked with all swimmers in his first season and has made an immediate impact on the program. Previously, McGill was the Head National Coach at Nitro Swimming in Austin, Texas and the Men's and Women's Head Coach at Eastern Illinois University. McGill has coached 1 USA National Team Member, 4 USA Junior National Team Members, and 8 Olympic Trials Qualifiers. He also swam at Eastern Illinois University and Champaign Central High School.
Register for Fighting Illini Swim Camps Here!
Training Facility
Activities and Recreation Center
The recently renovated Activities and Recreation Center (ARC) pool features a 50-meter by 25- yard pool of eight competitive lanes for varsity swimming, as well as an outdoor 50-meter six-lane pool. The pool water is temperature and chlorine regulated by a computerized filter system, and rough water during competition is minimized by trench drains.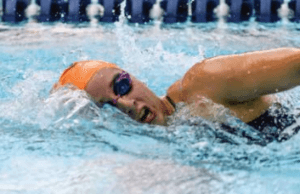 Swim Camp news is courtesy of Fighting Illini Swim Camps, a SwimSwam partner.