Team USA has a dominant history at the Olympics in the backstroke events. With names like Jeff Rouse, Lenny Krayzelburg, Aaron Peirsol, and Matt Grevers, Team USA has won gold in the 100 backstroke at every Olympics since the 1996 games in Atlanta. At each of the last 2 Olympics, the USA has gone 1-2 in this event. Aaron Piersol and Matt Grevers accomplished that feat in 2008, before Grevers went on to win gold in 2012 ahead of his American teammate Nick Thoman, who won silver. With the threat of Australia's Mitch Larkin looming, who will defend the USA's position on top of the backstroke podium?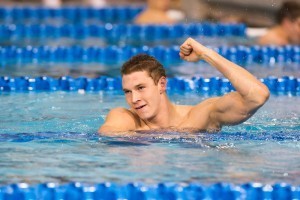 20-year-old Ryan Murphy enters Omaha as the fastest American since 2012, having scared Peirsol's world record at the 2015 Worlds with a 52.18 on the mixed medley relay. This year, Murphy blazed to American Records in the 100 back (43.49) and 200 back (1:35.73) at NCAAs. At Canadian Olympic Trials shortly after, Murphy proved his 52 last summer was no fluke, posting a 52.54. Having swum at his first Worlds last summer and making the final in both backstrokes at 2012 Trials, Murphy enters the meet with competitive experience that he didn't have last time around.
Murphy's swim ties him as the second fastest American this season with defending Olympic champion Matt Grevers, who swam a 52.54 to win U.S. Winter Nationals. Grevers narrowly missed Aaron Piersol's world record at 2012 Trials and in London, clocking 52.08 and 52.16 at those meets, respectively. His 52.54 is the fastest he's been since the London, and his upward trajectory this year bodes well for his capability to defend his title.
Swimming this event at 2015 Worlds for Team USA with Grevers was Minnesota-based David Plummer. He didn't make the final in this event at that meet due to illness, but bounced back shortly afterwards at the FINA World Cup when he posted a 52.51 to become the fastest American this season. Plummer first broke onto the scene in 2010, when he pulled off an underdog win against a stacked field that included Grevers, Peirsol, and Thoman. Since then, he's been a part of the 2011, 2013, and 2015 World Championship teams, winning his first individual World Championships medal with a silver in the 100 back in 2013. Plummer narrowly missed the Olympic team in 2012, falling just over a tenth short of 2nd place to Nick Thoman.
Thoman, who went on to win silver in London, made the move to Tucson, Arizona last year to train alongside Grevers. He swam a 53.20 to win 2015 Pan Ams, but he's been noticeably absent from competition since August and has since left his training base in Tucson. It's not likely that we'll see Thoman compete at trials.
Eugene Godsoe joined Thoman on the Pan Ams podium with a bronze in the 100 back last summer. His 53.96 at that meet marked his first time under 54 seconds since 2013 Nationals. His personal best is a 53.61, which he swam when he placed 5th at 2012 Trials.

Murphy's Cal teammate Jacob Pebley is the 4th fastest American this season. Pebley, a semifinalist in this race at 2012 Trials, represented the U.S. with a 4th place finish in this event at last summer's WUGs. He also traveled to compete at Canadian Olympic Trials after NCAAs, where he swam a personal best 53.85 in the 100 back.
Following successful NCAA seasons, Luke Kaliszak, and Taylor Dale will look to carry their improvements into the long course season. Kaliszak tied Thoman for silver at 2015 U.S. Nationals with a personal best 54.23, dropping 5 seconds from his 59.44 prior to 2015. Dale also swam a best time there to take 4th in 54.44, improving over a second from his previous best 55.98.
Michael Taylor competed in this event at 2015 Junior Worlds, and will look to make a splash at the senior national level this summer. Taylor came away from that meet with a silver medal and a time of 54.62 seconds. Not far behind him in that race was teammate Michael Andrew, who clocked a 54.74. Andrew has often swum heavy event schedules, which took its toll on him at Junior Worlds. If this event is one of his focuses at Trials, we could see him in the final.
Men's 100 Back Top 8 Predictions:
| | | | | |
| --- | --- | --- | --- | --- |
| Place | Name | Best Since London | Predicted Time | Training Base |
| 1 | Ryan Murphy | 52.18 | 52.0. | University of California, Berkeley |
| 2 | Matt Grevers | 52.54 | 52.2 | University of Arizona, Tucson |
| 3 | David Plummer | 52.51 | 52.4 | University of Minnesota, Minneapolis |
| 4 | Jacob Pebley | 53.89 | 53.3 | University of California, Berkeley |
| 5 | Luke Kaliszak | 54.23 | 53.7 | University of Alabama, Tuscaloosa |
| 6 | Eugene Godsoe | 53.96 | 53.9 | Stanford University, Palo Alto |
| 7 | Taylor Dale | 54.44 | 53.9 | University of Georgia, Athens |
| 8 | Michael Taylor | 54.62 | 54.2 | Dynamo Swim Club, Atlanta |

Darkhorse: At 2012 trials, David Nolan closely missed semis with a 55.59 for 19th. Nolan is an NCAA champion in the 100 back, but hasn't had the same success in long course, where his best is a 55.07. After finishing his NCAA career at Stanford, Nolan made the move to Tempe to train with Michael Phelps. With a complete focus on long course, we could see Nolan break out this summer. So far, he's been within a second of his best with a 56.05 at Austin Pro Swim.