The sport of swimming can become monotonous at times – hours of staring at a black line, without much change in scenery, stroke-after-stroke-after-stroke. This can be especially true in the doldrums of the heart of winter training, when tapers and championships are still months away, and coaches think that their swimmers have nothing better to do over the holidays than go home from practice and go into a self-induced coma for 20 hours before coming back and doing it all over again the next day.
So anytime coaches can add a little flair or creativity to the workouts, even if it might be a bit corny or cliche, the variety can add some fun to the work.
Enter the '12 Days of Christmas." Riffing off the popular holiday song, coaches put together workouts that usually theme some kind of building from 1 to 12 or 12 to 1.
While rarely as lovely as 3 french hens (which sounds like a reasonable post-practice snack), or 5 gold rings (Olympic dreams), some of these are rather creative and fun. The premise of these workouts is usually that on each round, you go back through and repeat all of the rounds prior.
We've picked out a few that we've seen this holiday season below to get your creative juices going before those last few practices leading into Christmas on Monday. (Point of fact: the 12 days of Christmas  begin with Christmas or the day after, rather than end with it, so you've got another 2 weeks to use these ideas. Most people read that wrong).
Greater Tampa Swimming
Hint: right-click image and "Open Image in new tab" to enlarge
This one is fun mostly for aesthetic reasons. Because when you lay out the workout as GTSA has done on the left, it looks like a Christmas tree.
Our annual 12 Days of Christmas practice, complete with holiday soundtrack to get everyone in the spirit! @swimswamnews @FlaSwimNetwork @FloridaSwimLSC pic.twitter.com/9yld84OFGl

— GreaterTampaSwimming (@GTSAswimmers) December 23, 2017
Tynemouth ASC Newcastle, England
Tynemouth, a club in England led by Chris Reekie, completed their set in just under 1 hour and 25 minutes (in short course meters), with no rest in between the days. Theirs included both dryland and wetland compoments.
12minutes Plank on Elbows
12×50's Fly swim
30 In + Outs
9x100m IM'S
40 Tumble Turns
7×150's Backstroke Swim
42 Press Ups
5×200's Threshold Free
36 Burpees
30 Seconds Deep Water kick
22 sit ups
300 IM swim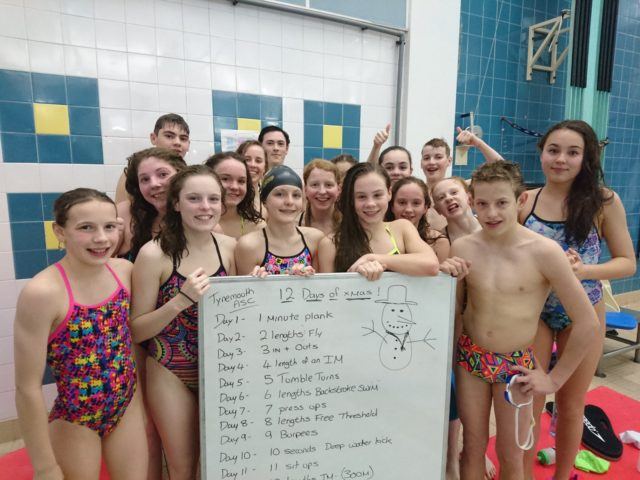 East Kilbride Amateur Swimming Club, East Kilbride, Scotland
Thomas Fenwick thought that his swimmers would endure their pre-holiday workouts a little better to song – so he actually phrased his whole set in the form of lyrics to the original.
Here's a session I made to fit to the lyrics of 12 days of Christmas. Gets harder each 'swim' of Christmas, with mix of sprint, body weight exercises, pull/kick and across all strokes. Idea is try to complete a full 'swim' before short rest. Did it w/ older development swimmers pic.twitter.com/WcD9Ulr8JZ

— Thomas Fenwick (@ThomasFenwick1) December 22, 2017