(1) The first thing that the world noticed, was Katie Ledecky in the women's 400 free, breaking the World Record. So many people noticed that Katie Ledecky was a trending topic on Twitter in the United States, even among Johnny Football's NFL debut.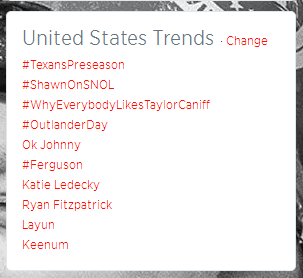 (2) Ledecky still hasn't put the 400, 800, and 1500 World Records together in the same meet, even though she's further distancing herself as the best in history in all three events. When she broke the 800 and 1500 World Record earlier this season in The Woodlands, she wasn't even close to the record in the 400. This week, while she broke the 400 record, she didn't come close in the 800. In an interview with Bob Schaller a couple of weeks ago, Ledecky said that the load of both the 800 and the 1500 in the same meet is still a lot for her to deal with; it's why she's been hesitant to commit to the 200 free individually at the international level until the Olympics, where the 1500 goes out of play.
When Rio rolls around, though, and she's got more spacing and cuts out the longest of her four primary races, look out for the records in the 200, 400, and 800. They could move into truly legendary territory (if they aren't already).
But here's what we noticed about that race. The runner-up (3) Cierra Runge, who swam a 4:04.67. She's playing the role of Allison Schmitt to Katie Hoff's lead; or Andrea Dickson to Janet Evans' lead. Runge is only 18 years old, and with that swim moved into 4th on the all-time 17-18 list in the United States in this event.
Were it not for Ledecky's World Record, Runge's time would have been earth-moving in and of itself. Runge is becoming an incredibly versatile swimmer as she heads off to Cal next year. She will be an important response for Cal in their bay-area battle with Stanford for Pac-12 supremacy. Just as Ledecky is coming down and getting faster-and-faster in the shorter events, improving her value in the NCAA format, Runge is expanding her range as well.
(4) Consistent as always, though Franklin overall isn't having as good of a Nationals as she did last year, she still won her 5th-straight title in the women's 100 meter backstroke. She's closing in on the all-time record of 7 long course national titles in that event.
(5) Franklin finished as part of a Cal 1-2-3 in that race, with Rachel Bootsma touching 2nd in 1:00.71 and Liz Pelton touching 3rd in 1:00.76. All three of those swimmers were probably hoping to be about a second faster, but this vaunted Cal backstroke group is starting to really rise to the top. Add to that Melanie Klaren, who swam out of the B Final, where she won in 1:01.81.
(6) In the men's 100 backstroke, Matt Grevers chugged away and put down another 100 back National Title – his 4th in the last 5 years, swimming a 52.75. Cal's Ryan Murphy (53.21) and SwimMAC's Nick Thoman (53.46) came in behind him, and while nothing will be official until Sunday, those are the three likely to make the Pan Pacs squad.
That means the defending National Champion, David Plummer, is squeezed out with a 4th-place 53.57. That means we won't see Plummer on this year's Pan Pacs team or next year's World Championship team, at least in the 100 back (he's qualified for Worlds in the 50).
We're confident that Grevers will go on to qualify for Worlds, but the Murphy-Thoman battle will be very, very interesting. Thoman suffered a shoulder injury earlier this year, and this meet is the first time since the Austin Grand Prix in January that he's really gone after a full 100 meter backstroke, and the time in finals was the fastest he's been since winning silver at the Olympics in 2012. Another couple of weeks, with confidence in the health of his shoulder, can only help him.
On the other hand, Murphy is young, and just by a function of his age will be constantly improving. Training at Cal will give him the advantage of being more accustomed to racing outdoors, for however much that's worth. Remember that only two of these three can advance to the finals, and as it's a day one event at Pan Pacs, the adrenaline will be high. Whoever harnesses that adrenaline the best in prelims will be in the driver's seat.
(7) Ryan Lochte declared a false start in prelims of the 100 back, which was smart as he knew he wasn't going to win the race and take a spot on the medley relay. If he wants to swim it at Pan Pacs, he still has that option. He did come back later in the night and lead of SwimMAC Carolina's 400 medley relay with a 54.58, so he still got his swim in.
(8) Micah Lawrence is really developing into an all-around breaststroker. As a high schooler, she was equally as proficient in the 100 as she was the 200, and in college at Auburn, she bounced back and forth between the two. It wasn't until she placed 2nd at the 2012 Olympic Trials in the 200, and only 7th in the 100, that she really became thought of us a distance breaststroker.
And for a period, that's really what she was. But now that she's established herself in the 200 and as an ongoing member of Team USA, she's started to let loose again in the sprints. She tied for 3rd in the 50 breaststroke this week, and won both the 100 and the 200 breaststrokes (tied in the 100 with Jessica Hardy).
(9) An intriguing trend is developing with two of Team USA's best swimmers. In 6 starts combined for Michael Phelps and Kevin Cordes, they've only improved from prelims to finals once. In chart form:
| | | | |
| --- | --- | --- | --- |
| | | Prelims | Finals |
| Kevin Cordes | 200 breast | 2:07.86 | 2:09.48 |
| Kevin Cordes | 50 breast | 27.39 | 27.33 |
| Kevin Cordes | 100 breast | 59.83 | 1:00.63 |
| Michael Phelps | 100 free | 48.77 | 49.17 |
| Michael Phelps | 100 fly | 51.17 | 51.30 |
| Michael Phelps | 100 back | 53.76 | 53.95 |
Cordes' 50 breaststroke was the only prelims-to-finals improvement. Phelps has one more event left, the 200 IM on Sunday, while Cordes' meet is done. With the Pan Pacs format forcing swimmers to really push in prelims, I'll be curious to see if they hold the same pattern in Australia as well.
(10) One swimmer made his breakthrough in the men's 100 breaststroke final, and one swimmer missed his breakthrough. The one who made it was Indiana's Cody Miller, who swam a 59.91 for the victory. Miller has had a frustrating last few years – he's got obvious promise, but has been plagued by DQ's. He finally got his pullouts straightened out, though, and now has moved to the top of the breaststroking heap in the United States. He, Nic Fink, and Kevin Cordes, who went 1-2-3 in this race, are all pretty young, and are becoming a three-headed monster for the Americans. Fink is the model of consistency, while the other two have huge top-side potential.
The swimmer who missed out is Brendan McHugh, who after being 2nd in prelims slipped to 7th in finals. He's still got a spot locked up on the 2015 World Championships team in the 50 breaststroke, but won't be on the Pan Pacs roster this year. He's still one of the great stories of this meet so far, though, with his U.S. Open Record breakthrough in the 50 on Friday.